Welcome to SoFlo Pool Decks and Pavers of Boynton Beach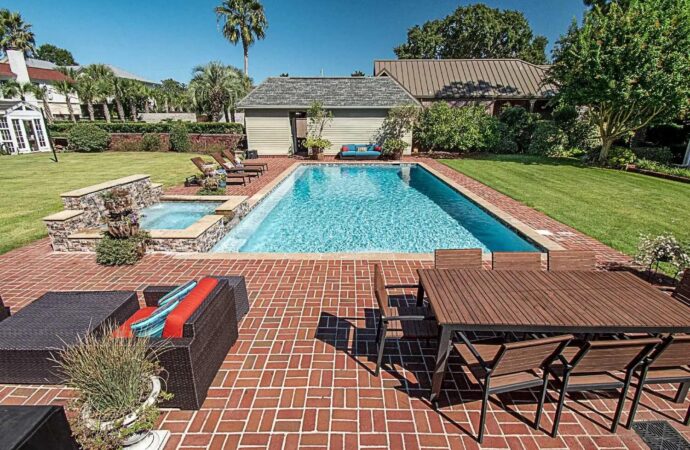 Getting to experience a nice time in a pool requires a lot of work from the owner. The aesthetics and functional parts and aspects are equally important, but quite difficult to handle if the right professionals aren't involved. Therefore, you want to focus on getting all pool deck resurfacing, pool acid washed, and more services done with contractors you have taken the time to choose. At SoFlo Pool Decks and Pavers of Boynton Beach, you will find reliable, skilled, and qualified members who will provide full support throughout the project. Moreover, we will consider all factors, from your budget to your needs and preferences.
Unlike other companies in the state, we worry about finding balance in how the projects get done and how you need to operate on the projects. As a result, you are guaranteed to have a clean and satisfying pool area that won't affect your finances or how you need to sacrifice some elements for others. In case you have some special requests or processes to include in the project, we will be more than happy to assist you so that you can fit every step in and have all services taken care of.
We are aiming for the best all the time. hence, you can have access to any of our services and expect our contractors to focus on giving you what will make the pool area functional and beautiful simultaneously. Feel free to call or email us, and learn more about us while continuing to read the information we have prepared for you below.
Making sure that you have reliable and qualified professionals working on your pool deck resurfacing, pool lighting, and much more is always key if you want a result that will be stunning is going to last, and can bring all the experience you expect once the project is completed. Our SoFlo Pool Decks and Pavers of Boynton Beach team can offer you a great experience and ensure you have the perfect design, style, durable surface, and a pool that won't bring more problems than benefits in the short and long run.
Although our main focus lies in pool deck resurfacing and the wide variety of surfaces we have available for you, we also offer more services. You will be able to have your lighting systems installed to bring a new style and ambiance to your pool, maybe repair some cracks and filtrations, or work around some areas and structures of the pool others tend to ignore or neglect.
We know you may either come with a very clear idea of what you want and need, or it could be the opposite: you aren't sure about what service or solution you need to bring your projects and ideas to life.
Now, how do we help people when it comes to the entire design and needs they have? What if you don't have a clear idea of what you want? Or, what happens when more than one service is needed in all this?
Well, the idea is to know about you, your pool deck, or the entire space and work around what we see and what you know. Ideally, we should be able to assess your property or pool area once you contact us or the second time you reach out to us for a very detailed quote or estimate.
After all, it isn't the same to work around your very specific details and just some general information when compared to actually seeing the space and determining what needs to be done to achieve the desired result.
We understand some pool owners won't want us or won't be able to allow us to visit their spaces right away, which is totally fine. However, suppose you want an accurate estimate that will be pretty much the final price and only needs your modifications or any negotiations with the team. In that case, you will have to allow us to visit it at some point.
We are also open to this if you need or want an estimate that is literally an average of the price. When calling or emailing us, you only need to give us some details of what you want, what you need, the service you are requesting, and the dimensions of your pool area, if possible. If you cannot provide all the details for whatever reason, don't worry; we will work around what we have at hand and help you from there.
What happens when you have a project in mind and already know what you want? The process is similar for either a general or specific service.
Remember, we have a wide variety of services available, and you will be able to find the solutions you need for either aesthetical or functional and durable purposes.
How Our Company Helps You in Boynton Beach
---
If you are interested in having our team help you with all your pool needs, make sure to contact us but first, have a look at all the services available so you can make your selection before or during the process of reaching out:
Remember This About Pool Deck Coating & Resurfacing
---
This service is required after your pool deck has been built and has been used for a while—or this is usually the ideal time to actually need the service. Our experts will make sure you don't regret spending the money and ensure you get a result that is just as durable as the previous one or even more, especially if you had a bad experience with the current surface in your space.
Resurfacing can make your pool deck last longer and be more durable. Multiple coatings are possible so that you don't have to worry about cracks and filtration. It may seem like a lot of work or something you need to do every day, but good services will ensure that you only do it once every 8-10 years. Some surfaces can last much longer depending on how well they are maintained over time.
These two options, coating or resurfacing, allow you to design a completely new look for your entire surface. This will allow us to work with a wide variety of materials and give you durable and long-lasting results.
Consider pavers when choosing the materials for your space. They are great for walkways and driveways but not for pools, or this is what people have believed so far. If pavers aren't properly installed, they can settle and move and need frequent maintenance because of their location. You will need to choose pavers that are qualified or hire experts who can guarantee a durable and clean installation.
Your requirements will make concrete and other materials more durable and effective as well since when choosing the surface and type, it is all about your needs and what you expect in all this. The idea is to have a space that fits your needs and won't make you spend more time and resources later on.
For pool deck coating and resurfacing, the right sealer is needed. This will ensure your pool deck is stable and prevent slippage. It protects your deck from daily wear and stains.
If your primary concern is aesthetics and design, coating or resurfacing might be the best option. We can offer new colors, textures, and score lines if you ask the SoFlo Pool Decks and Pavers of Boynton Beach.
We will work closely with you to coordinate your outdoor spaces and property. This allows us to combine the pool decks we need to resurface or coat with a new design. Because we have a wide range of materials available, we can create many different styles for you based on the options we introduced to you in our services list.
What Is the Cost of Pool Deck Resurfacing?
---
Prices will vary depending on where you are located, what design and materials you need for the project, and your property's or pool deck's size. Remember that prices and quotes will vary based on your needs and who you are.
We will need to evaluate your entire pool deck and area in order to provide you with a quote. If we are unable to visit your area, please let us know by phone or email. We will then send you the details so you can let us know some information:
The dimensions of your pool decks or existing surface.

You have the option to choose the design and add any extra features.

The location of your deck and the time it has been used.

Depending on the condition of the pool deck at the time, repairs and additional services may be necessary. This should be added to the final cost.

The project budget and your preferences. What you would like it to look like and how much you are able to afford.
Our professionals will help you choose the right type of resurfacing or coating for your project before you hire them.
We will provide you with customized quotes to ensure you fully understand the scope and requirements. Then, we will provide all details about your project.
Depending on the design and option you select for your pool deck, there are many options that can be more or less costly. The cost of original spray texture, diamond Brite, and travertine installation, as well as any other coatings or repairs, tends to be quite doable for all homeowners and commercial property owners.
It is important to fully understand your requirements and preferences before we provide you with a quote. If you are not willing to share these details with us, we will give you an estimate that is likely to be far off the cost of your project. It will also not take into consideration all aspects of your space or what you want to achieve.
We want you to be satisfied with the service that we offer. No matter what your needs are, it doesn't really matter if they are aesthetic, functional, or general. We want you to be satisfied with the solution and not worry about any resurfacing, coating, or other services.
Every service has an average price. We will give you a quote before or after we assess your space and determine the final costs. You might not be able to give us access to your space immediately. Or you may just need to know what the cost could be within a certain range. You can call us or email us to provide information about your space. We can also give you estimates based on the information you provide and according to what we mentioned earlier.
We can provide a better quote if you review the information and answer the following questions:
If you don't need us for pool deck resurfacing, do your service and needs clear when contacting us, at least one of them.

Do you have any special requirements or preferences regarding materials and style or the help you need from us?

What about making repairs that you feel necessary? We can help you determine if you have to deal with them if they aren't obvious so far.
Consider the service you need. If you're unsure about what you need, we can provide more information and help you determine what is really needed to repair your pool or deck, the service or surface you need, and so on.
Our job begins when you call us and request some guidance and insight into what to do.
Below is our list of additional services: