Pool Heater Installation Services for Boynton Beach Residents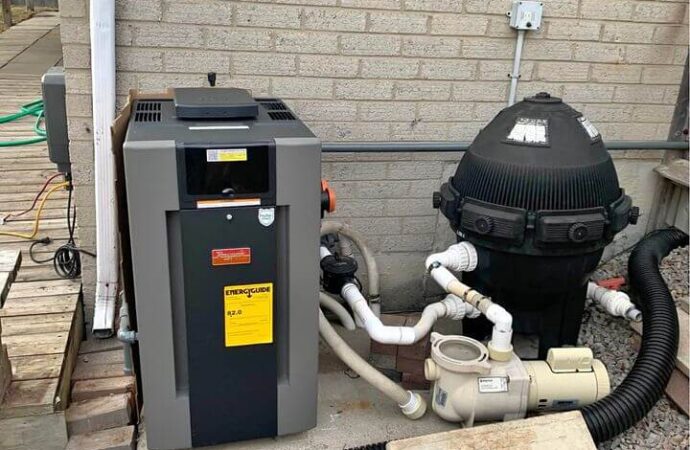 Enjoying your pool any time of the day feels like a luxury. However, if you install the right feature and addition, you won't feel like it is extra for your space. Instead, it will be part of the daily routine. We recommend opting for pool heater installation at SoFlo Pool Decks and Pavers of Boynton Beach. As long as you choose the perfect type depending on factors such as use, budget, and preferences, you will be able to get the most out of your residential or commercial pool.
In case you are open to the option, look no further but our team and have our contractors provide full support during the following steps:
Learning more about each heater type.

Choosing the perfect type is based on the short and long term.

Focusing on durability and longevity.

Ensuring the installation is neatly done in the space.

How you can get the most out of the heater with proper maintenance and repairs (when needed).
Why choose us? Because of our experience and extensive history in the industry, we have become the leading pool heating service provider in Florida. With a highly skilled and experienced contractor team, we are committed to delivering the highest customer satisfaction standards. Hence, you can work with us, and rest assured that your heater will be the right one and properly installed in your space.
All Pool Heater Types Along with Pros & Cons
---
When considering pool heating options, it's important to understand the different types of heaters available and their benefits. Otherwise, it is easy to end up installing one that may solve the issue and fulfill needs during the first few days and weeks, but later on, it will become a problem.
Overall, there are three main types of pool heaters: gas, electric, and solar. Each has its advantages and drawbacks, but all can effectively extend your swimming season.
Gas heaters are the most popular choice for pool owners due to their quick heating capability. However, they can be expensive due to how they use propane or natural gas to heat the water. While they are very efficient at maintaining a consistent temperature, they can be more expensive to operate than other options, and the cost of gas can fluctuate.

Unlike popular belief, electric heaters or heat pumps are energy-efficient and environmentally friendly. They extract heat from the surrounding air and transfer it to the pool water. While they may have a higher upfront cost, they can save you money in the long run due to lower operating costs. Hence, you may want to consider them when the heater is constantly used.
Solar heaters use the sun's energy to heat your pool. They are the most environmentally friendly option and can be quite cost-effective in sunny climates. Nevertheless, they may not be the best choice for areas with limited sunlight or if you require rapid heating. Fortunately, this isn't a problem in Florida, but they can be quite expensive upfront.
In case you cannot make a decision considering your situation, our contractors will perform an inspection and give recommendations based on your needs and your budget. Then we handle the full installation.
Should You Hire Us for Pool Heater Installation?
---
We are aware that many companies in Florida offer this service nowadays. Unlike them, we can work with you from the beginning, which is why we encourage you to hire us above all other competitors and options in the industry.
For fear of poor results, some pool owners stick to the same contractors, even when they may not be the best. In case you are going through this, allow us to introduce ourselves and let you know why we are the best option for all your heater installations.
First, we have the expertise and experience. This means we can handle any potential challenges during the project and recommend the most suitable heater type for your specific needs. We will work with you during decision-making unless you are fixed on a specific heater type.
Second, we are fully licensed and insured. Therefore, you won't have to worry about any liabilities or extra expenses during the project in case of accidents.
Finally, we have good communication and warranty and maintenance are guaranteed. We pride ourselves on working with our clients and listening to their requests. This, coupled with how we set recommendations based on your needs, allows us to provide top-notch results. All our pool heaters also have warranty and maintenance, so you can have them taken care of free of extra charge, or in case of issues, we will be there for you.
Is It Recommended to Prioritize Pool Heater Installation?
---
This is more of a personal question since it varies depending on whom you are asking. In our case, investing in a quality pool heater installation can provide numerous benefits to you and your family besides the ones we mentioned before.
First, not only does it extend your swimming season, but it also increases the overall value of your property. By choosing the right type of heater, you can rest assured that your pool will remain comfortable and inviting throughout the year.
Above all, you won't be adding a random feature. Instead, it is functional and can be easily maintained and last for over a decade with few repairs or attention. Hence, there is nothing to lose in the long run.
By entrusting your pool heater installation to our company, you can be confident in the quality of the work and the long-term performance of your pool heating system. Our experienced team of contractors will guide you through the entire process, ensuring that you make the best decision for your unique needs and budget.
In any event, we will be there to take on all the issues and inconveniences. We want you to realize that pool heater installation is a crucial investment for any homeowner looking to enjoy their swimming pool to the fullest. Henceforth, contact us for more information, and we shall bring every detail to the table so that you can make a well-informed decision.
Below is our list of additional services: