Eurotile Installation Services for Boynton Beach Residents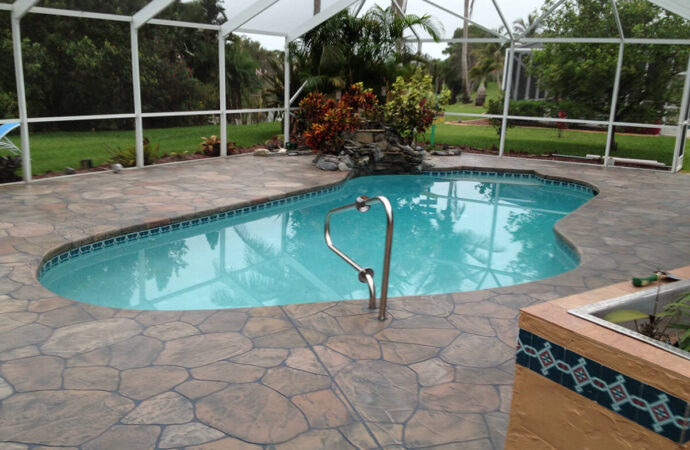 Imitating some surfaces and materials is possible for your pool deck if you know what material to use. Regarding stamped concrete or even travertine, eurotile is a great alternative due to its price and quality. Unlike popular belief, it can last for over a decade and maintenance isn't an issue when you keep it clean and provide the basic services. Our SoFlo Pool Decks and Pavers of Boynton Beach team can provide all assistance and help with the project so that you know your property and project will be in the best hands.
We have been working with eurotile for about 15 years. Unlike other contractors, we noticed its potential a long time ago. As a result, we wanted to offer it to our clients in the area so that you could have an alternative that is aesthetically pleasing yet not as expensive as others in the market. The tricky part is working on proper installation and knowing how to choose textures and colors to imitate specific surfaces. With us, you won't have to worry about this being done properly since we focus on designing and planning the process before we start working.
In case you have questions or doubts about the material, you can call or email our team to schedule a free inspection so you can get a free estimate from our contractors. This will allow you to understand and know what the project entails and how to maximize your investment and time.
You should consider all options and materials when you are trying to focus on your deck and consider all types of repairs, remodeling, and resurfacing you could need or just want to bring something new and ensure your pool performs 10/10. Resurfacing, in particular, is a common task and project among commercial and residential property owners. Concrete, brick pavers, and travertine are the most popular options when it comes to the surface for this type of project and the ones you will often hear about. But when considering other options, have you heard about eurotile? If you haven't, we have always encouraged people to listen to it for a bit. 
When it comes to eurotile in specific, what if we told you that it is a cheaper option that offers all benefits you want for a surface at once? Eurotile is a beautiful and affordable surface that can also be used to build pool decks in any area. It doesn't matter how small or large the pool deck may be; you will have a great result that will bring all the pros and prevent most cons of regular surfaces and materials.
We're happy to demonstrate and show you, before anything else, how it works, as we believe it is one of the best options on the market in terms of what it can do and the designs it can create. It's possible to have a beautiful and affordable surface without worrying too much about repairs or regular maintenance. We love eurotile, and it can be used to replicate several types of surfaces, so when it comes to designs and styles, you have plenty of options.
Natural stones and brick pavers are popular choices because they offer a beautiful and durable surface that can be elegant and stylish as long as they are properly installed. You can go for a traditional or modern look, or you can experiment with different styles if you choose eurotile since it can do the same thing for less because it is all about how you use the material. We have been using eurotile for more than a decade and know how to replicate many designs, so if you allow us to show you some samples and the results we have achieved, we know you'll fall in love with it.
Concrete and brick pavers are easier to work with if you're trying to achieve the desired look since they just come as the regular material you need for the design. However, eurotile will be a cheaper option and provide the same or better results. It is worth a try, and we recommend trying it before saying 'no.'
It is crucial to weigh the pros and cons when you are working on pool decks. You should also consider hiring qualified professionals to help you. Our team is highly skilled and dedicated to achieving the best results. Because eurotile has been our main selection for over ten years, it is something we are very familiar with.
We often think about the strength and durability of eurotile when weighing its pros and cons. A clean, beautiful surface can last more than a decade. You don't need to worry about your surface getting dirty as other surfaces as long as it is properly installed, and you only need to wash it once in a while to ensure it is clean unless you have some circumstances and the weather conditions of the day.
It can be found in places with many spaces for entertainment or enjoyment. These products are beautiful, durable, and cost-effective. It is also important to consider the design and style of your deck in all this, and we help by planning every step.
Before you use our service, it is important that you have a good understanding of eurotile, and you should be aware that we will gladly provide information about eurotile, so you understand why it has become a popular choice for both residential and commercial property owners and pool owners.
It May Be the Best Option That Not Many People Know About
---
We understand that you might be worried about the choices for your pool deck and how much information you are finding in all this. However, we are almost certain that among all, eurotile and the fact of finding it is a result of your efforts to search for the best options and/or start researching services and professionals that could help.
Concrete, brick pavers, and travertine are the most common options for pool deck resurfacing, but it is mostly because of how familiar pool owners are with them, as they know what they get as long as the installation is handled properly.
Eurotile is durable and long-lasting, which makes it ideal for many applications. It is much easier to install than most other surfaces, and it will also absorb water better and last longer. This is an important aspect to consider when designing your pool.
This surface has seen a lot of popularity in recent years since more people have been noticing the benefits, and we are happy to be one of the contributors to bringing awareness. 
To make sure you know its extension, it is made from acrylic and concrete and has heat-blocking properties that are good for both state and local climates. There are many designs and options available since this is what most homeowners desire.
If you are concerned about style and design, you will be pleased to know that there is a variety of options. Our skilled contractors have years of experience in installing concrete and brick pavers, but they also know how to handle eurotile to the point of imitating all the variety of options it allows, such as natural stone, concrete, spray, and more.
We Are Here to Help
---
We have the expertise and knowledge to reproduce many surfaces and colors thanks to our extensive experience and the top materials we worry about acquiring and using in all this. You can also customize the colors to match your outdoor space or pool deck by just letting our team know.
Before we take on the big step, we will design and plan the pool deck. So make sure to spend time with our team and contractors, and feel free to ask every question and doubt you have.
Below is our list of additional services: