Pool Repainting Services for Boynton Beach Residents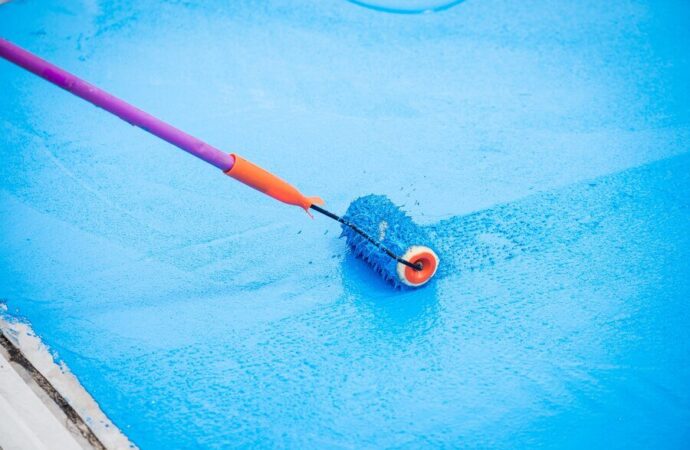 A fresh coat of paint can change your pool's appeal. It will be a game-changer for your pool's appeal as long as it is done properly and the paint's quality follows the technique and skills. Therefore, whenever you realize that pool repainting is required, you should consider it an essential maintenance task that cannot be delayed. At SoFlo Pool Decks and Pavers of Boynton Beach, our contractors and qualified painters can provide the best service and support for the project. By the time we finish, you will be able to enjoy a stunning and durable pool that isn't only beautiful but also stronger in terms of structure.
Unlike popular belief, painting a pool doesn't have to be the worst idea. In our case, we consider it quite affordable as long as the professionals handling the process can ensure that repainting it won't be frequent. After all, what makes people worry about going for this option is how often it needs to be retouched compared to other alternatives for finishing.
Our company can help you have a unique painting finish lasting over four years. Hence, you won't have to worry about repainting as a recurring expense but rather plan it and estimate when you can get it done as you see your pool finish deteriorate or wear out with time and the elements. In case you need some advice or guidance, we will be happy to provide it before, during, and after we finish this service for you.
While some contractors and painters will tell you that repainting is needed every 3 to 4 years, we want to aim for every 4 to 6 years. Everything will depend on the weather, maintenance, and how the chemicals affect the pool.
Pool Repainting: How It Helps Maintain Your Pool's Condition
---
Besides the aesthetical benefit of repainting your pool, you get more from the project and investment. Therefore, make sure to have a list of pros whenever you want to tackle this process so that you know what you are getting and what you aren't.
In case you choose us as your painters, it is easy to have this list as our team makes sure to provide it. This way, you will have it and see what we are trying to achieve for you. Additionally, we can go over the main benefits right below so you get a better idea of how repainting can change the entire pool in more than appearance:
It will provide all the protection from chemicals, chlorine, UV rays, or other elements. Just like fiberglass or maybe vinyl, the paint will be the protective layer for all your pool.

The new paint also adds more property value. As long as you have a pool that is in good condition and looks good, you can always ask for more money whenever you decide to sell the property.

In addition to the two above, you get a specific design for the pool. Although paint can be associated with basic and plain surfaces, we can provide a specific design and style if you ask for it. In other words, we can create new patterns and drawings if requested.
How Does Our Pool Repainting Process Take Place?
---
Our process is simple and seamless. Unlike other companies, we don't want to make it complicated since we understand that no one wants to go over multiple steps and worry about details and information that feels useless—and it is in many cases.
Therefore, expect us to start with how you can contact us. Call or email us, and we will answer all questions and clarify your doubts. Once you have settled with our team and we delivered the estimate, our painters will set the date and start working on your pool.
First, they will prepare the space by draining and cleaning the pool. Then we can repair the cracks and any damage so that we proceed with the usual acid washing or specific treatment to remove all algae and extra sediment and materials left from the project.
Second, we move on with the priming and how we prepare the surface so that the paint sticks properly and can last for several years. Then we can paint the pool and apply multiple coats as we let each one dry properly.
Finally, we need to let the paint set for at least 24 hours before performing a final inspection, checking for any issues, and filling the pool again for proper use.
In some cases, we will add more steps as we need to determine what you need for the pool and how it will work. In case we only need the basics, this is pretty much the process we will follow. As long as you contact us first and are open for a free inspection, we will be able to give you all the details in advance.
This includes a free estimate that has all the details and how our company will work on the project for you. Additionally, we can adjust and adapt the project to your budget, preferences, type of paint, and other needs.
How to Contact Us to Access Pool Repainting
---
At SoFlo Pool Decks and Pavers of Boynton Beach, our team is ready to take on all your needs and ensure you can have the best results for your space. While some contractors will worry about closing the deal, we will have you at the top of the list and focus on how we can help you.
Part of our goal is to be there whenever needed and ensure the service adapts in all possible ways. Hence, we will work with you within a budget, the color and texture you want, and how you want the repainting done.
Contact us today via email or phone, or use our contact form for more details. We will happily help and ensure you get the best out of our painters.
Below is our list of additional services: