Spray Deck Services for Boynton Beach Residents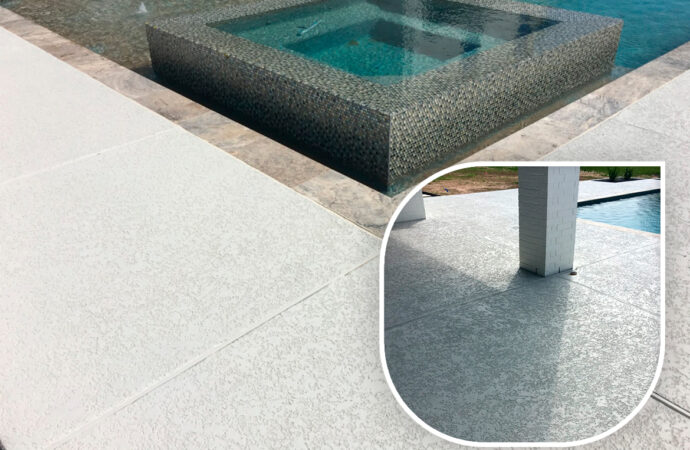 Spraying decks doesn't feel or sound that appealing when you have so many options for pool deck resurfacing. Still, it can be an amazing option in case you are looking for an affordable and durable option. as long as you have the right contractors providing the service, you should be able to get the project neatly done and with the result, you are expecting and more. At SoFlo Pool Decks and Pavers of Boynton Beach, we have been providing spray deck services for over 20 years. Hence, we can get a clean and durable surface for you.
We are aware that many contractors don't worry about explaining how the technique works or what the spray deck is in the first place. However, we will take our time around this and help you have a clear idea of the type of pool deck resurfacing you are getting. What we can guarantee from the beginning is that it will be affordable, durable, stunning, and long-lasting. Therefore, you can contact us and have more information about spray decking and how it can be done without worrying about quality, thanks to our contractors.
Part of the information you will want to access is right here as well. Our company has compiled the details and basic information so that you get some ideas about what you are working with. In case you have already decided to work with this pool deck resurfacing option, we can schedule a free inspection and estimate for you.
Even if you don't see your pool too damaged or you just notice some repairs needed, resurfacing may be necessary after several years just because of the prolonged use. It doesn't matter if you use the pool for your own personal enjoyment or to provide services for clients and guests who visit your commercial property. To ensure durability and long-term longevity, pool deck resurfacing must be done, and for it, a spray deck is quite an affordable and durable option more people should get to know. You will want to pay attention to this material and product when it comes time to save money and time. We recommend spraying your deck at SoFlo Pool Decks and Pavers of Boynton Beach, as it will help you save both time and money, depending on how happy you can be with the design and style.
This type of resurfacing offers all the benefits and cost-effectiveness you want: affordability, heat resistance, durability, and aesthetics, and you can have more longevity if you take care of it properly. The simplicity of the design, which you can see online and, in some examples, we will provide before you make the decision, may not be suitable for everyone. However, don't close yourself before even giving it a chance.
Many people want different styles. It is possible for those who are looking for durability and affordability and place these as their top priorities to choose to spray their decks. If you want something similar to concrete in other cases, it is about seeing how the spray will make your pool deck look.
One thing you may want to know as well is that this option is time-saving. It is fast drying and can still deliver great results in a short time. Relying on experts such as us will ensure that you get the best results possible and a surface that is both beautiful and durable.
The right products can be used to resurface your deck. You will also need to design the project and make sure that the materials are properly used for all this, which will be handled by our contractors. Our team is able to offer you great deals and low prices in almost all cases so that you get the best out of your investment. It shouldn't take a lot of money, and we will make sure of this.
If you work with professionals who are experienced with it, you will be happy with the final product. We are proud to be one of the few companies that use this material and will ensure the product does not become an eyesore over the years.
Since we have been working with it for over ten years and have been in the business for nearly 20, we are proud to offer this service. We will amaze you with the results we can deliver to your deck and how much enjoyment this space will bring to you all year.
Don't Consider It Just a Cheap Option
---
There are many options for resurfacing a pool deck depending on what materials were used and what the surface is or which one you want for your space. Spraying a texture product on the surface can be used to cover it and bring a new surface that is more cost-efficient in the long run. This is why this spray product is just a good option. We'll show you how it works as it's simple and makes a neat design. Our contractors will be there to handle all the details, so you won't have to return to your pool deck in over a decade.
Spray can be used wherever concrete is the main material, or some considerations and changes can be made based on the current state of the surface you have installed. Spray can also be applied to other surfaces as a result, but we will need an assessment of your deck in those cases and every single one. 
Spray can be customized in a range of colors and textures. It's not the most appealing surfacing option, but it is an excellent one. It can produce amazing results, but it all depends on what you want from the service and your personal preferences.
All questions regarding this service and the products and how to use it are welcome. We can also provide information about the process of the coating so that you are fully informed and understand why it is a good option, despite what some might think.
Now, we want to make sure that you understand that spraying your deck is more than just an affordable option. It is quite durable, and you can get stunning designs as long as you have qualified professionals like us.
Give It A Thought & Then Take the Step
---
It can be hard to find the right surface for your project. There are often too many choices, making it difficult to choose the right one, and we know you have your doubts about pool spray just because of how new and weird it sounds, but we promise great results with it.
Spraying your deck is easy. All you need to do is choose the color and texture that you would like. The service and project focus on how to spray the product onto flat, smooth surfaces. You can choose to continue the same design or get a customized one if you already have a smooth deck.
There are many colors available, and we are confident that you will find one that meets your needs and goes according to your preferences around styles.
SoFlo Pool Decks and Pavers of Boynton Beach are here to assist you and offer only the finest products. We offer high-quality services without requiring you to spend too much.
If you are interested in more options or resurfacing, we will be happy to help you. We encourage you to give pool spray a shot and allow our team to show you the whole idea. It is a great way to make your pool deck and space look amazing and durable.
Below is our list of additional services: