Pool Sun Bench Installation Services for Boynton Beach Residents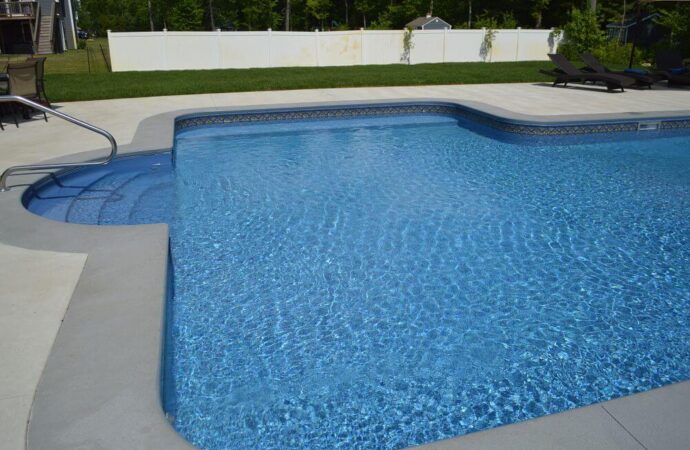 At SoFlo Pool Decks and Pavers of Boynton Beach, we consider that pool sun bench installation is your best option whenever you want:
A pool feature that offers a space to relax and chill inside the pool.

The opportunity to have a feature that won't cost a fortune.

Enjoy time inside the pool without feeling exhausted or right after you finish your swimming session.
Additionally, the feature can add beauty and ensure your pool has more value, leading to more property value. Hence, you could sell your home or commercial property for more without investing much. As long as the sun bench is built and installed properly, you can expect a benefit in aesthetics, functionality, and value.
Our company is one of the few places in Florida that offers all types of pool sun benches and their complete installation. Before you take on the project, we can provide information and details about the service and how the feature can enhance your pool area's appeal. Unlike other companies, we don't want to force you to choose a new addition if you don't like it. Therefore, we will introduce it and help you make a well-informed decision.
This is unless you come up with a clear idea of wanting the sun bench, which happens more often than you would think. After all, the installation has grown in popularity, and our company, in specific, has worked with multiple residential and commercial pool owners over the past five years.
Before anything else and above all, we can tell you that investing in the feature can transform your outdoors into a backyard oasis. The sun bench offers a place to socialize, read a book, or simply soak up the sun while submerging partially.
What's the Best Pool Sun Bench for Your Space?
---
Several factors influence the decision. Your pool's size, type, and design. Additionally, you must consider the budget and how the sun bench will fit in the space. Furthermore, not all designs and styles go well and cannot always be customized or changed accordingly.
Therefore, the first challenge in working with this installation is knowing what type to choose out of the following:
Custom-built sun benches: These benches are designed and built to your specifications, ensuring a perfect fit with your pool's unique features. This is the most common option as it saves time and effort. In addition to the perfect fit, it ends up being cheaper in terms of maintenance and getting fewer repairs, thanks to how it fits the whole pool's material.

Prefabricated sun benches are a more affordable option since they come in various shapes, sizes, and materials, making it easy to find one that suits your needs. However, they may cause some problems in any event where the material doesn't fit the rest properly.
Inflatable sun benches are for those who prefer a temporary or movable solution. Unlike the others, they are easy to install and remove as needed and can go inside or outside the pool.
Whenever you struggle to make a decision, our contractors will take part and bring comparisons between each pool bench so that you get the most out of your project. In addition, we can set a budget with you and ensure you don't spend more than you can afford.
Preparing Your Pool Sun Bench Installation
---
While it depends on the project and the sun bench we are installing, we often follow a process that simplifies the installation. This way, you won't struggle to understand how it takes place; instead, you get to even take part o each step.
First, we clear the area by removing waste, debris, furniture, and any obstacle. Then we will work on the plan and design we agree on beforehand while planning the project with you.
Second, we get all permits and focus on following local regulations and keeping the sun bench within legal boundaries. As a result, you won't have to deal with any problems when inspections or assessments occur.
Finally, we start the installation by working on draining the pool, preparing the surface, and ensuring the entire structure is as we designed it with you beforehand.
After the installation, you can begin enjoying your new pool sun bench. Invite friends and family for poolside gatherings or simply relax on your sun bench while savoring a refreshing beverage.
Is It Difficult to Maintain a Pool Sun Bench?
---
In essence, it isn't. while some people worry about the maintenance, the truth is that there isn't anything different from the usual service you have to provide to your pool to maintain it in good condition.
Above all, a pool sun bench is a fantastic investment that enhances your outdoor living experience and creates lasting memories. Therefore, you won't regret its installation. Besides, our company provides some guidelines and recommendations after we have completed the installation:  
Periodically, use a soft brush or cloth to remove any dirt, algae, or debris that may have accumulated on the surface.

Check for any wear or damage, such as cracks or loose parts. In case you notice any issues, contact us, and we will get there for proper repairs.

Maintaining proper pool water chemistry is vital for the longevity of your sun bench. Imbalanced water can cause corrosion or staining on the bench's material. Therefore, focus on regularly checking it.
During the off-season, consider using a pool cover to protect your sun bench from harsh weather conditions. Whenever you want to use it, just uncover it and follow the usual process. In case it is a hassle, contact us, and we can get you a more resistant surface or finish for the bench.
We are here to provide our support for all information and details about the installation. Post-services and any required warranty and maintenance are provided as well. Therefore, don't hesitate to contact us at SoFlo Pool Decks and Pavers of Boynton Beach to finally get your bench done and taken care of.
Below is our list of additional services: