Pool Acid Wash Services for Boynton Beach Residents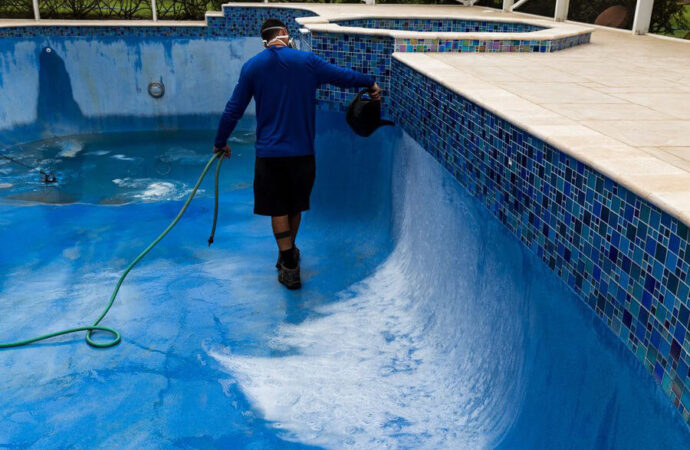 Maintaining a swimming pool takes a lot of work. From your usual cleaning to other projects around the washing and repairs, it will take multiple services and days to get them done. as long as you keep it in good condition whatsoever, you will be able to have a space to enjoy all year round with your loved ones or by yourself. However, some services, such as pool acid wash, aren't too popular or known. As a result, some owners don't know that it is needed along with their usual maintenance to keep everything running smoothly. We can introduce you to this service and process at SoFlo Pool Decks and Pavers of Boynton Beach.
Unlike your usual cleaning or simple washing, the acid service helps restore the pool's former glory. You will be able to remove all grime, sediment, and algae and ensure water circulation is enhanced so that the performance is improved. But if you want to work around this, you must know how to mix proper chemicals, use the brushing and scrubbing steps accordingly, and ensure the entire service is delivered neatly. For it, our contractors and cleaners can provide all the help needed and ensure your pool is in the best condition.
The importance of maintaining a clean and attractive swimming pool cannot be overstated. A well-executed pool acid wash can significantly improve the appearance and cleanliness of your pool, making it more enjoyable for you and your loved ones. Above all, it will add value to your property as you maintain your pool clean, especially if you plan to sell a home or commercial business.
How Does Pool Acid Wash Take Place?
---
The main difference with your usual cleaning is that pool acid washing is a deep cleaning technique that removes stains, algae, and mineral deposits from the pool's surface. Therefore, you have more than the usual dirt removal and any waste you notice on the surface. Instead, you get a thorough clean that allows for a new experience and maintain the pool in its main condition: looking stunning.
Depending on the company or contractors you hire, the process can vary. In general, changes won't be massive as washing a pool follows similar steps in all cases, but some companies like adding more as they customize the process.
With us, this procedure typically involves draining the pool, thoroughly cleaning the surface, and applying a mixture of water and muriatic acid to dissolve and remove the unwanted buildup. In case we notice some dirt and specific waste that cannot be removed with the acid, we will mix or include some chemicals so that we can scrub and brush the surface.
The acid solution is then carefully neutralized and rinsed away, revealing a cleaner, brighter pool surface. While working on this, it is important to note that experienced professionals should only perform pool acid washes, as the chemicals used can be hazardous if not handled correctly. Additionally, this service is not recommended for frequent use, as it can potentially damage the pool's surface if performed too often.
Our company will take the time to inspect your pool to determine whether the service is truly required. If not, we will find an alternative and ensure you can still have a stunning and clean pool.
How Much Does Acid Washing Your Pool Help You?
---
Whenever you look at acid washing as more than a service, you will realize it has multiple benefits. One of the most significant ones is the dramatic improvement in the pool's appearance. Stains, discoloration, and algae can make a pool look uninviting and unclean. A thorough acid wash can eliminate these issues as long as it is performed well, leading to restoring the pool's original beauty and making it more enjoyable for swimmers.
Additionally, you can improve water quality. Over time, mineral deposits and algae can negatively impact the pool's water chemistry, leading to imbalances that can irritate swimmers' skin and eyes. A pool acid wash can help maintain a healthy and balanced water environment by removing these contaminants.
In our company, we always prioritize services and suggest full washing whenever it is needed. Therefore, coming to us means you either know it is required or you want to know if our contractors are needed for it. as long as you contact us first, we will be able to tell whether the acid wash is needed or not in your feature.
In case you are struggling with your budget but still need the washing, we can do it within your affordability and finances.
Trust Our Experts for Every Pool Acid Wash in the Area
---
Choosing the right company for your pool acid wash is crucial, and with so many options, you may be wondering which one would be the best. At SoFlo Pool Decks and Pavers of Boynton Beach, we truly care about your needs and what is required in your space. Hence, we will help you determine if pool acid washing is needed, and if so, we will perform it immediately.
Another aspect distinguishing us from our competitors is our commitment to eco-friendly products and methods. While minimizing the footprint we leave with products, we can provide a thorough cleaning that will leave the pool in the best condition. We are different, and unlike other companies, we will show it to you instead of just talking and making promises.
To clarify, a pool acid wash is an invaluable investment that can dramatically improve your swimming pool's appearance, cleanliness, and overall enjoyment. By selecting a reputable company with a team of experienced contractors like us, you won't have to worry about continuously repeating the service and damaging your pool surface. Moreover, we will provide advice and recommendations around every detail. Hence, don't hesitate to contact us and have our team and contractors work on your pool space to get the most out of it.
Below is our list of additional services: