Residential Pool Deck Resurfacing Services for Boynton Beach Homes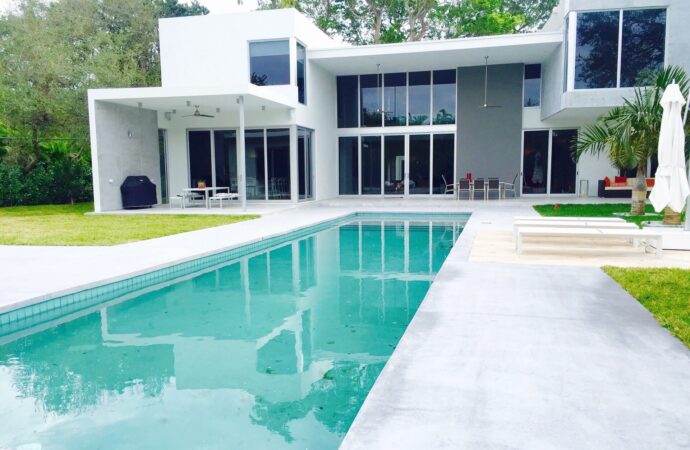 Owning a pool means you will have an entire space to take care of. This doesn't sound half bad when considering the professionals or contractors who can help you. However, when you consider services such as residential pool deck resurfacing, you will realize that not just any contractor can provide proper support. At SoFlo Pool Decks and Pavers of Boynton Beach, we can promise top-quality results and ensure that your residential pool area is in the best condition. Hence, you can contact us any time and have us work on resurfacing for repairs or a change.
Unlike other companies, we provide our assistance based on what you need, prefer, and can afford. In other words, we will find a balance and bring some options when resurfacing your pool deck so that you can have a more accurate option around the project. Unless you have a clear vision and one something in specific and nothing else, we can open more windows and ensure you have alternatives that allow for a design to be perfect in your eyes.
That being said, pool deck resurfacing can be a challenge when you aren't clear about why you need it or if it will last a long time. Therefore, we prefer performing inspections and some assessments in the area so that we can see your pool's condition and size. Then provide a plan and design around choosing the perfect material based on your pool's damage and what you want in the aesthetical end.
Companies in Boynton Beach don't tend to worry too much about how they can deliver even better services over the years. Instead, they only think about what would be good enough to keep clients coming their way. Well, when it comes to residential pool deck resurfacing and anything related to your pool area, we want to be better. In fact, we want to be the best. This is why our team at SoFlo Pool Decks and Pavers of Boynton Beach is the best option when it comes to choosing contractors, and we can promise you we will work hard to get you the desired result you want and bring all the materials, tools, and professionals to the picture so you don't have to worry about your pool deck for a very long time and can enjoy it all you want.
For a while, it has been quite common to see homeowners concerned about their pool and the surrounding elements. We have observed that residential pool deck resurfacing is not often at the top or very close to it, at least when it comes to quality from most businesses in the area, which is another reason why we wanted to give our best and change this perspective and fact around the service.
We will provide you with the best service and ensure that you are happy with the final result. We care about the beauty of your pool deck, but durability and long-term viability are our top priorities.
Let's first explain why your pool matters and what resurfacing is the right one for it immediately. We can help you understand the advantages and the reasons behind resurfacing, no matter if you're looking to remodel your pool for aesthetic purposes or repair damage.
There are many reasons to request this service, and wrapping your head around why it is particularly crucial for you would help you understand future repairs and services you may need around your feature. Pool deck resurfacing is a service that can repair or fix cracks essentially, but if you are tired of your current design, resurfacing is required and possible to achieve this alone.
We were contacted by residents in the area to resurface their decks many times, and most of them wanted it for repairs, but the minority was indeed looking for a change and remodeling their spaces.
Although the pool is an important part that doesn't seem to need much besides regular maintenance, it should not be overlooked. A deck can enhance any space and make it more enjoyable as well. Work around all the features, and you should be able to get a pool that is stunning and quite comfortable.
Time to Resurface Your Residential Pool Deck
---
We will inform you if your pool deck needs repair or maintenance if you contact us. If you contact us for any service, we will notify you and begin working on a plan and design from there based on the request and if you want or need more than our residential service. If you aren't sure, it is our job to determine all the elements that must be considered in your space.
To determine if repairs or cracks are required, we will inspect the concrete for damage and look for any signs of cracks. Concrete may be wearing down, causing more problems. There are many reasons why you might change the design as well.
There are many options available that will meet your needs. We are happy to help you assess the space and make recommendations to maximize your investment. Our service can help you determine what repairs are possible and how to proceed. We will offer guidance and recommendations throughout the process, and we can help you to find the most affordable solutions and get you the results that you want.
Don't assume that we are done with our job once you have requested the service. We are here to answer all your questions and guide and direct you through the entire process until you are satisfied with the outcome.
We will help you make the right decisions and support you throughout the planning and execution stages. We will always look out for your best interests and strive to satisfy you.
You Got More than Two or Three Options
---
Concrete and pavers are the most popular options for surfacing. However, you'll get more value and less cost if you look at the pros and cons of each option and consider others in the market.
There are many options for styles and materials you can choose from to create unique spaces. You'll be pleasantly surprised at the affordable options available if you allow us to introduce you to them.
The design will be determined by your wishes and our ability together. Also, the size and cost of your deck and pool will impact the overall cost. There are many options, so take your time and look at all of them before you decide on the one that is right for you.
Resurfacing a pool deck requires applying a concrete overlay on existing surfaces. This is the most popular method. This can be used to make a long-lasting, durable new surface. The materials you have available can be used to design your deck or pool as well; this means that you don't need only concrete and can use other materials for the project.
The overlay can be customized in many ways. We will provide examples and photos for each option so that you can see how it will look after being applied by our professionals.
So that you can get enough information about each, you will be provided with examples according to available space and options.
SoFlo Pool Decks and Pavers of Boynton Beach is here to help. We will be happy to guide you through every step of the process. We can help you with planning, design, and other issues. We are here to help you make informed decisions and introduce you to all the possible options: brick pavers, travertine, spray deck, travertine, eurotile, and more.
Below is our list of additional services: