Diamond Brite Installation Services for Boynton Beach Residents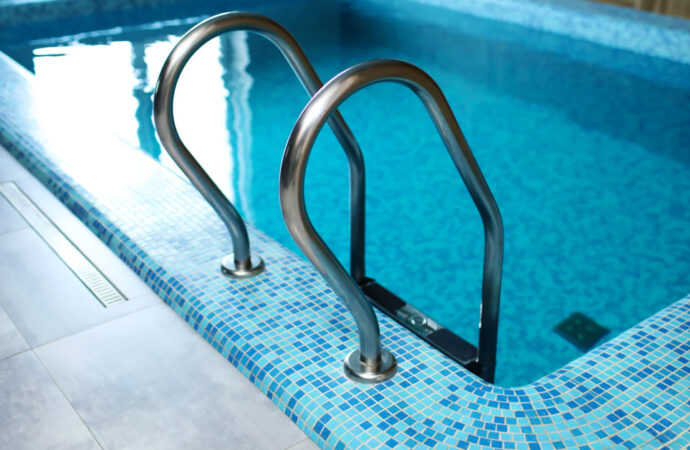 Choosing the right type of finish or complement for your pool and pool deck doesn't have to be difficult. Our SoFlo Pool Decks and Pavers of Boynton Beach team recommends diamond brite installation for these projects. It is a material that allows for resistance, water-proofing, and a stunning finish in terms of how it makes the surface shine. Additionally, its durability and how much it enhances the pool for longevity will be the game changers in deciding whether you want it or not.
You don't have to worry about how diamond brite works or what it is in the first place. as long as you contact us first, our team can give you all the information that will go into detail about how the material and installation work and take place. On the other hand, you can have our team provide a full design and plan for how it will be done for your space. To do so, we need to visit your space and inspect it. Then we can give you an estimate based on how much work is involved and your pool's condition for the task.
Whether it is a residential or commercial property, our team will happily take on the project. Unless you have a specific request we cannot fulfill—and we will always let you know in this case—we can deliver diamond brite installation services to every owner in the area. Hence, feel free to contact us anytime; we will be there for you.
Whenever you are working with your pool and guaranteeing it is in good shape, you want to focus on the internal areas just as much as the external ones, or even more than those. In all this, it is important to consider the durability and performance of its components. You will regret not working on your outdoor feature as soon as you start noticing all the repairs and maintenance needed for this. It will be a problem that will cost you a lot of money and time to fix. Let's be clear: pool construction requires quality materials, great services, and excellent features. Diamond brite installation is part of the best choice to ensure durability and longevity. 
It is often overlooked or ignored by contractors, or people don't even know about it, but it is a recommended finish at SoFlo Pool Decks and Paves of Boynton Beach. We have worked with this pool finish for many years and can guarantee that it will change your life.
Decks are often made from solid materials. These materials are heat-resistant and provide great support due to their non-slippery properties. The diamond finish is very similar to the one you will find on decks, but this is a very useful finish as it provides more durability and resistance to the pool's structure since its main purpose is to be installed in the pool's internal walls.
Natural quartz aggregate is used to make diamond brite polish. This is not the main material or, more like, not the only one, but it does add great value since it increases the durability and longevity of the whole installation. This quartz option is highly durable and will not fade due to its resistance to chemicals such as chlorine.
It can also be considered modified cement that is partly composed of polymer. This is added to make the entire substance an altered concrete polymer that will last over a decade easily and as long as it is properly installed.
Your pool will last more than ten years if you maintain it at an acceptable level and its use is controlled around what you expected when building it. Now, it is our responsibility to install the finish properly and ensure that it lasts so you don't have too many worries about internal parts.
Diamond brite can be used for your pool deck. It is not recommended for its main purpose, but it can be a good addition in many cases, and we can work with it for either your internal or external parts of the structure, so you bring a clean and long-lasting result.
It's weather-resistant, and it will be a focal point of outdoor living spaces. It will not require frequent repairs, and it will be less slippery.
You Will Bring the Best to Your Pool Area
---
We understand that not many people are familiar with diamond brite. We will cover all details so you can make an informed decision and understand what it involves to choose this installation over other projects you may have for your pool or just include it among them.
This will allow you to understand the importance of your pool, and how it can be used during any remodeling or construction projects, you might be involved in.
Diamond brite is very comfortable, especially around its edges once it is installed. Most people will sit there to drink or chat and enjoy the water. It's functional and won't be affected by heat, so it can serve its purpose no matter how hot or cold the weather is. It will not have a different texture or finish once it is installed, and you can have a clean surface outside and inside of the pool.
The pool polish can be used for a long time and does not need to be cleaned often. You can save money by using the pool polish to invest in new areas that will improve your pool's performance.
It is easy to put together, and you will be able to enjoy your pool or deck in no time; maybe just both of them, and make the entire pool to be the key in all this.
Calculating & Estimating Cost Based on Your Budget
---
Contractors that don't take into account your financial situation and sell high-end finishes to you can make the process extremely expensive, and we know this is what usually happens when you are requesting the service in Boynton Beach and nearby areas.
Naturally, professionals or companies that do this are not in line with your budget and needs. This service is increasingly being offered by more companies, which is a good thing. But the problem lies in the price.
Our team is among the best in the industry and can guarantee high-quality surfaces and textures for a fair price. We will do everything in our power to ensure your satisfaction and get the best possible results for your money.
Because of its durability and quality, it's a great investment. It doesn't cost a lot to get a good investment, and it will pay off in the long term when you consider how many repairs you will require.
We encourage you not to spend more than what you budgeted unless there is a heavy reason to do so. SoFlo Pool Decks and Pavers of Boynton Beach will give you a quote after learning about your pool's dimensions.
Project costs can vary depending on the extent of the work needed and the area to be covered. The average price is between $3.000 and $9.000. To get the best price, we recommend that you discuss your project with our team and allow us to assess your property to determine what needs to be done in detail.
All factors will be taken into consideration, and we won't add any extra costs or make you pay unnecessary fees. Remember that support and service begin with how you navigate the project with our team and thanks to our support.
We don't stop there. We will be there to answer any questions you may have and ensure that your pool and surface are in top condition during and after the project is done.
Below is our list of additional services: