Pool Refinishing Services for Boynton Beach Residents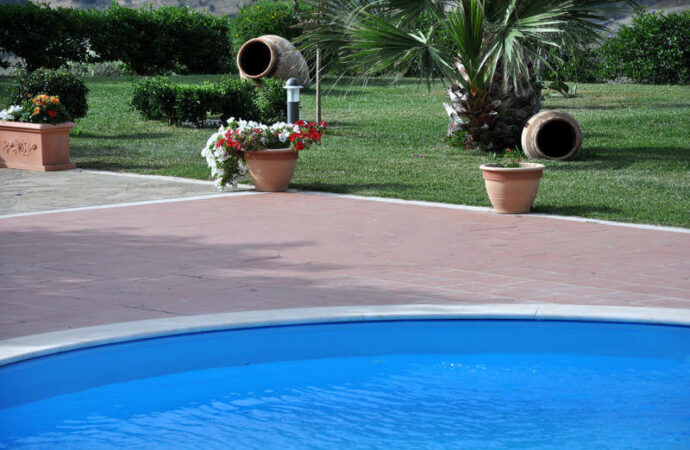 When you decide to invest in a pool, you must realize this: it will cost more than the initial investment. In addition to all the expenses in the construction, you must consider the repair and maintenance needed to keep its condition. After all, it is crucial for maximizing its lifespan and enjoyment. In all this, pool refinishing is an important aspect of pool maintenance that helps restore the surface, making it more durable and visually appealing. As a result, you will have a pool space that is more valuable and won't bring you as many issues as in other conditions.
At SoFlo Pool Decks and Pavers of Boynton Beach, we are one of the few companies in the area that can deliver the best refinishing for your pool. In case you are unfamiliar with how this service is or entails, it is resurfacing your pool's surface. There are multiple options in terms of materials and types, which is why making the decision can take longer.
What we do in our company is provide full support. What does it include? Providing guidance and recommendations around the service and how you can tackle the project. In case you have questions and doubts, we answer and clear all of them respectively so that your space is designed and refinished according to your needs and preferences. Additionally, we can deliver a free inspection and estimate so that you get a good idea of how long this will take and the whole investment it entails.
Why You Should Pool Refinish As Soon As Possible
---
While some contractors will only give you a simple overview of pool refinishing, we are different. Instead of only giving you some details, we want you to know why it isn't a simple service but rather a priority in your pool area.
First, most people consider how it helps enhance appearance as the design and entire surface just wear out. Whenever you refinish it, you restore the previous look or can change it to a new one depending on the materials and products you use.  
While you have a new appeal, you add strength and durability as the new pol refinishing layer reinforces the structure against the damaging effects of water, chemicals, and weather. As a result, you experience less damage, such as cracks, discoloration, and common signs of damage.
Finally, you need to realize how safe your pool needs to be. A good finish offers stability and a smooth surface, allowing for more safety and grip. As long as the material is applied accordingly, damage and other issues won't be present anytime soon.
Allow our contractors to give you more information depending on your pool's condition. While these are overall benefits, you can get more pros based on how your pool is and the main reason behind the refinishing. Hence, you want to allow us to provide details and give you a free inspection.
How Our Team Refinishes Your Pool
---
Whenever you are about to aim for this service, you may want to learn about the process. Before going over the different steps, we must add that pool refinishing can change depending on particular needs. For instance, some pools require extra repairs, while others only need us to clean the surface. Therefore, parts of the project can be added or removed according to what we have at hand.
With this in mind, we start with the surface's preparation. First, we will drain the pool and clean the entire surface of debris, grime, sediment, and more. As a result, we will have neat walls that can take on the new material.
Then we proceed to perform repairs according to the pool's condition or state. In some cases, resurfacing the pool will be enough to repair all the cracks and extra damage, but this will require some preparations from our side.
Once the surface is ready, we must choose whether sanding or acid washing is needed. Pool acid wash allows us to remove grime and sediment as well. However, it isn't always required due to the pool's type and condition. For fear of worsening the state, some people skip it, but what we want is to fix the new finish properly.
Finally, we apply the new finish. With many options available, you can choose from plaster to fiberglass or some specific and custom material. Then we let it dry and even scrubbed some parts depending on the finish that was used before we could refill the pool.
Do We Offer Quality Services for All Pool Refinishing?
---
Absolutely. Unlike other companies, we truly care about quality and durability. This is why you can expect neatly done refinishing while having contractors that worry about your budget and requirements.
Our company will consider a list of factors so that we can give you an accurate estimate of your projects. Consequently, you can adapt the process to your needs and have our work on any changes and adjustments based on some details or elements you would like to remove or add. That being said, what we consider includes the following:
Your budget or how much you are willing to spend on the project.

If you want to change the finish or refinish it to restore its condition.

All preferences in color, material, and even brand.

Durability and longevity are equally important, if not more, to use when it comes to providing a result.

Any request and need you may have in addition to the whole project.
At SoFlo Pool Decks and Pavers of Boynton Beach, we can take on any small or large-scale pool refinishing project. Therefore, don't hesitate to contact us and have our contractors work with you at every step. We will be more than happy to provide you with a free inspection followed by an estimate that details every step, material, and the whole timeframe so that you can decide whether to work with us.
To sum up, we care about you, your pool, and how we can make the whole project durable to make you avoid any extra expenses.
Below is our list of additional services: