Cool Deck (Kool Decking) Services for Boynton Beach Residents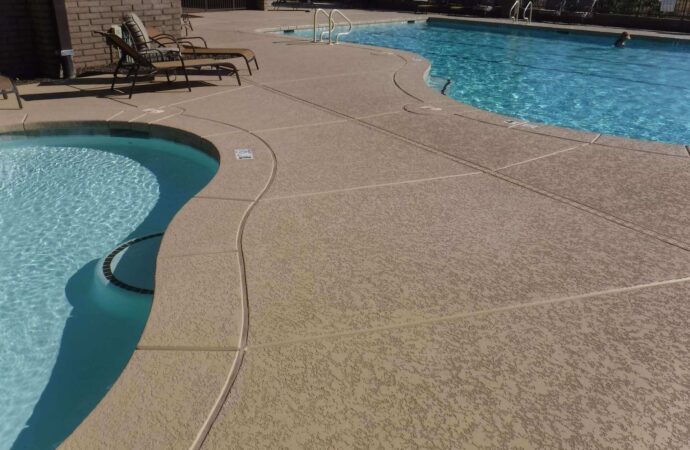 Durable, long-lasting, and stunning, these are the qualities you should prioritize in your pool deck resurfacing project in the same order too. Otherwise, it is common to have a poor result that will lead to repairs, more resurfacing, and expenses in the short and long run. At SoFlo Pool Decks and Pavers of Boynton Beach, we highly recommend a cool deck (kool decking) if you want to add "affordable" to the qualities. While most people focus on how they can get brick pavers, stamped concrete, and more popular options, we consider all of them. You would be surprised by how much this cool option can provide to your space.
First, we will introduce you to the idea and how it works. As a result, you will be able to identify how the material will look and if the aesthetics it offers are what you are looking for. Second, we provide details about durability and longevity while you consider your budget and let us know. Finally, we design and organize a plan so that the deck can be resurfaced with this option. All this will be handled as long as you contact us first and let our contractors work around your needs.
We are focused and fixed on how we can work with your projects in terms of needs and budget. Hence, you can expect our contractors to have your best interests in mind and get a design and resurfacing that suits all sides. As long as you are open to recommendations, we can even bring multiple designs and alternatives using the cool deck.
Among all the resurfacing options and the elements available for your pool deck, cool deck, also known as kool-decking, isn't a popular choice when it comes to pool deck resurfacing, or more like it isn't known by many people either owning residential pools or commercial ones. Around resurfacing, concrete and pavers tend to be the most popular choices for pool owners. Still, we all know this: they can be quite expensive considering the quality and type of materials needed for them and all the experience of the contractors to work with them. Well, in the case of kool decking, it is all the same. Still, you actually get a more affordable price for the resurfacing as materials are lower costs yet high-quality ones, and our team at SoFlo Pool Decks and Pavers of Boynton Beach can help you with every detail so you get the results you want with this.
We can provide information and recommend the right option or service around your pool area. This will allow you to have the support and access to contractors who can handle your project and deliver the best results. 
If you are satisfied with the results, you will see the greatest return on your investment. This is especially true if we are familiar with Kool decking and can help you find qualified and competent experts to assist you. We have right among our contractors who are ready to offer all the assistance you need.
Our team has provided this coating for more than a decade to both residents and business owners. It's safe for swimming pools and can be installed by our professionals using high-quality materials that will last a lifetime.
Cool coatings can be applied to pool decks of all sizes. Before making any decision, we recommend you learn more about the benefits:
It is cost-effective and easy to access.

You get a no slippery, heat-resistant surface at a lower price than concrete, brick pavers, and other options.

The styles and designs can be varied.

The cool surface provided is often more durable and long-lasting than others, and the heat resistance is what allows the entire surface to feel amazing all year.
We want you to be happy with the decision to resurface. This may not be your first-time resurfacing, but we want to make it your last for over a decade since we know how much money some people spend when they have poor services and contractors dealing with the job.
Before we get into the details of kool decking and its popularity, we want you to know that it can be used for many purposes. Although it isn't the most popular and best-known option for pool deck resurfacing, it can be used in a variety of ways, and you will love the coldness it offers.
Consider Kool Decking for Your Pool Area
---
There are many choices when it comes to outdoor spaces and pool deck surface options. You might not like some options, and others may be too expensive for you, and you don't want to spend that much on a project that can be achieved with other alternatives in the industry. Yes, there are many options, so it can be difficult to choose between them, and it isn't necessary to stick to the regular ones.
Owners of pool decks want a cost-effective, long-lasting, beautiful, and affordable solution. It's about getting the checklist right and getting everything completed. It doesn't have to be hard, as many people believe, especially when you have us as your supporters, and we make sure you have all the details regarding the different materials and options in the market.
There are many factors and variables to consider. We want you to be happy with your choice, and for it, we need to know more about your preferences and what you expect from this project. We can help homeowners get started or learn more about this alternative deck option or any other they want.
Now, focusing on our main topic, when choosing a pool deck surface, there are two important factors to consider: first, it must not be slippery, and second, it must be resistant to heat or weather conditions.
Cool decks make a great choice for homeowners as well as business owners. They can meet all their requirements, including cost, durability, and aesthetics. Kool decking can be installed and will last for at least ten years with minimal maintenance. Repairs are quite rare as long as the usual maintenance is provided every once in a while unless there are exceptions like external damage and unexpected situations.
You can give it a test drive in terms of appearance and then decide about its functionality when having us work around it and deliver the surface for a test.
A cool deck can be used to resurface existing decks or have it from scratch or as your first surface. You can use it on concrete that has been poured before or as the main pool's surface if you have a brand-new one. It is all about understanding how it works and how the team can help you.
The entire surface can be created using kool decking or overlays. As long as you are able to rely on competent professionals to help you with the process and ensure it is durable, and high quality, this type of surfacing is possible.
SoFlo Pool Decks and Pavers of Boynton Beach can help achieve amazing results. We will work with you to meet your needs and budget. This will make sure you have a pool deck that lasts a lifetime and will save you money.
We don't want to bring a general result but rather tailor one that fits your budget, needs, and preferences in all this. You don't have to choose a cool deck right away since we will ensure you have a good idea of how your pool deck will look after applying it and how it is meant to perform in the space.
All information and considerations will be put on the table before you take the big step.
Below is our list of additional services: