Pool Deck Restoration Services for Boynton Beach Residents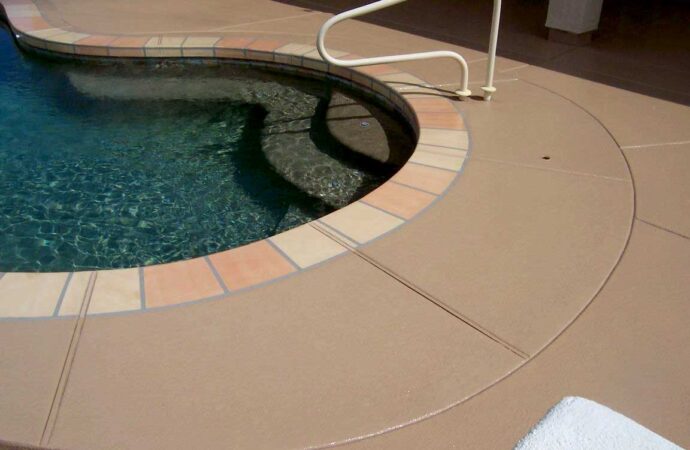 Part of having a pool involves adding a pool deck where people can sit and enjoy their time. After all, you cannot always spend time inside the pool. At least, not everyone wants to, and while some people will think otherwise, the pool deck will offer a complete landscape and more benefits than you can imagine. However, owning one comes with additional services; with time, it can be old, ugly, and require some care. Pool deck restoration is required in those cases, and at SoFlo Pool Decks and Pavers of Boynton Beach, we can help you with every part of the process.
Since most people associate restoration with huge changes or a lot of work, we want to change this concept. First, you can consider restoration of small changes and additions to the pool deck as long as it is about making it look new and safe again. Therefore, don't think you can only count on us if it is a massive or commercial project. Be it for homeowners or commercial property owners, we can ensure it is neatly done.
Additionally, most pool deck restorations are involved with resurfacing only, as it is more than enough in most projects. However, changes or additions like pool bubblers, heaters, or other features can include pool deck repairs, remodeling, and refinishing.
To have a good idea of every part of the project or how you can approach your needs, contact us first, and our team will take it from there. Unlike other companies, we work around your specific space and how it can be handled. Hence, we need to inspect the pool deck so then we can have an estimate and plan in place for you.
Is It Worth Investing in Pool Deck Restoration?
---
While some people will say "yes" immediately, we want to make this clear: it is based on preferences and priorities. Having a clean, stunning space and part of your property will always add property value, but it cannot always be a priority when you have many parts or areas to take care of.
Therefore, it is worth investing in as long as you will use the space, need it for your commercial property, or will gain something from it. In case you are trying to make the decision based on prioritizing a bathroom or this area, then no.
However, we want you to consider the benefits whenever you are thinking about moving onto your pool deck next so it finally has the attention it deserves:
It enhances safety in the spaces as damaged or worn pool decks can pose safety hazards, such as tripping from cracks or slippery surfaces. The restoration helps address this, as it will be resurfaced and fully repaired most of the time.
A restored pool deck can dramatically transform the look and feel of your pool area. You can create a more inviting and visually appealing space by repairing damage and updating the surface. Additionally, you can add more features and change colors or textures. This alone will make a huge difference.

As mentioned earlier, a well-maintained pool deck can add value to your property by making your pool area more attractive to potential buyers. Therefore, investing in pool deck restoration can be a wise decision if you plan to sell your home in the future.

Working on pool deck restoration can extend the life of your space by addressing any underlying issues and protecting the surface from further damage.
How Much Does Pool Deck Restoration Entail?
---
For fear of how much time and money it can take, most pool owners delay working on a full restoration or even consider it. Instead, they aim for small changes that cannot even be considered restoration or renovation in the area.
At SoFlo Pool Decks and Pavers of Boynton Beach, we want to make sure you have a good understanding of the entire scope of the project. Therefore, we want to mention some of the most common options while restoring your pool deck.
First, resurfacing the entire space is common since a new top layer deals with all damage, including cracks, stains, and discoloration. In fact, we often recommend starting here and going down the list of needs and preferences.
Second, you can stain the pool deck as it brings a new design and looks, but this is often in replacement of resurfacing. You can choose it mostly during concrete pool deck restorations or when you want a different finish.
Finally, but equally important and popular to the other two, you have all repairs in the space. Simply dealing with cracks and damage can be done by resealing the pool deck. However, this is often an additional service that can be provided individually or together. In any event, we are here to provide guidance so that you know when it is needed or not.
Our Company Is Ready to Take on Restoring Your Pool Deck
---
We love working with challenges at SoFlo Pool Decks and Pavers of Boynton Beach. Moreover, we appreciate any client who approaches us with pool deck restoration in mind since it brings multiple services and needs to the game.
Thanks to our contractors, coupled with the quality materials and equipment we use, you will get quality and stunning results for your space. In case you haven't made a decision about the type of changes or additions you want, we can start here and go all the way to the project getting done.
As long as you take the first step in contacting us, we will handle the rest for you. In essence, we are here for your needs and preferences, so we encourage you to be open about what you need and allow our contractors to provide full support for every step.
To sum up, we work thinking in your best interests, so allow us to work on the pool deck restoration that will change your entire space.
Below is our list of additional services: