Pool Deck Stamped Concrete Services for Boynton Beach Residents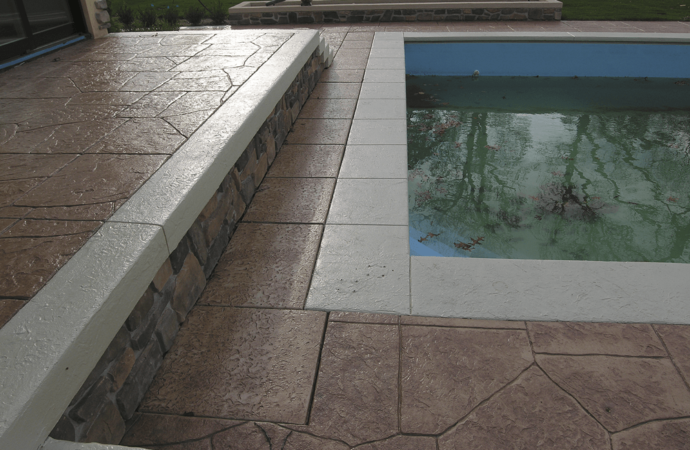 Pool deck stamped concrete is more popular than you may think. It has increasingly risen in popularity among homeowners who are looking to improve their pool area's aesthetics and functionality. But why is it so popular? Due to how convenient and functional it is. Unlike popular belief, it is versatile and durable, which can replicate the appearance of natural materials like stone, brick, or tile, providing a cost-effective and low-maintenance alternative to traditional pool deck surfaces. We know best at SoFlo Pool Decks and Pavers of Boynton Beach, as our contractors have been installing it for over 15 years.
Unlike other companies, we recognized the quality of stamped concrete and decided to include it within our services. However, not all people want the benefits it offers, as we understand everything comes with disadvantages. Therefore, reviewing them with our team before you decide to take on this option is a good idea.
After all, most pool owners choose brick pavers, travertine, or similar surfaces when they have the options. Unfortunately, most of them aren't only quite expensive and difficult to repair or provide maintenance. As a result, finding an affordable, durable, and stunning option is the most viable solution.
Hence, stamped concrete is an option to consider as it fulfills all requirements and can offer a good surface as long as you work with the material properly to get the desired design. Allow us to be your contractors, but before that, we can provide more information and details about the material right below.
Are The Benefits Worth the Installation?
---
Answering this question depends on multiple factors. First, you need to consider your budget and how much you are willing to spend or can afford on this project. Second, you should consider the aesthetics you are looking for so that you are not dissatisfied with the result. Third, focus on how durable and long-lasting the surface will be. Finally, is it a surface that can be easily maintained and repaired?
In advance, we can tell you that stamped concrete for your pool deck checks all boxes as long as you are open to the style and design. In the case of repairs and maintenance, it is about knowing how to provide the simple filling for cracks and some resealing, which our team will instruct in advance if you decide to work with us.
Since we want you to make a well-informed decision, the list of the main benefits can provide a better inside so that you can determine whether this is the surface for you or not:
Stamped concrete can mimic various natural materials, allowing for various design options. This flexibility enables you to create a unique and visually appealing pool deck that complements your home and landscape. Therefore, you don't need to "sacrifice" style or design.
Unlike popular belief, it is highly durable and can withstand harsh weather conditions, heavy foot traffic, and prolonged exposure to pool chemicals. As a result, it is an ideal choice for pool decks, particularly in Florida's weather.
It requires minimal upkeep compared to other pool decking materials. Its resistance to mold, mildew, and staining means that it can be easily cleaned with a simple pressure wash. Additionally, repairs only need some sealant or basic resurfacing.
Pool deck stamped concrete is often less expensive than other decking materials.
Can You Get Your Dream Pool Deck Surfacing with It?
---
We meant it when we mentioned it offers a wide variety of designs and styles. Most contractors in Florida don't know how to work properly with the material. As a result, it is quite difficult to know whether it meets your standards or not.
For this reason, we would rather have you know the options you have in terms of patterns, colors, and styles.
First, you can have multiple patterns and textures. Stamped concrete can replicate various patterns, such as slate, flagstone, brick, or cobblestone, giving you the flexibility to choose a design that suits your style and complements your home's architecture.
Second, the color can be customized either by adding pigments during the mixing process or by applying stains or dyes after the concrete has been poured. Hence, you can have multiple colors or go for a different option.
Third, borders and accents help to enhance your pool deck's visual appeal and can be considered in different styles and colors. This can help to define specific areas, such as steps or seating zones, and create a more dynamic and interesting design.
Lighting or adding other features can bring a different style as well.
Finally, you may want to consider how to imitate some surfaces based on the stamped concrete limitations. For this, our contractors can provide full support and assistance.
How Long Does It Take to Get a Pool Deck Stamped Concrete?
---
Since we need to prepare the surface and ensure every part of the deck is ready and clean, the prep work is what takes the most time. Overall, having the stamped concrete can take between 1 to 4 days, depending on the deck's size.
Part of those days is only the concrete drying and us making sure that no cracks or details are in the space. as a result, you will be able to enjoy the space and the whole area so that you get the most out of your investment.
As long as you contact us at SoFlo Pool Decks and Pavers of Boynton Beach, we will be able to take on the project and finish it in no time.
Additionally, we can provide a free inspection and estimate so that you get a good idea of how much will be invested and why. In case you cannot proceed, we will work in your best interests and keep your budget in mind at all costs.
Email or call us today to get more information. Or use our contact form so that our team gets back to you quickly.
Below is our list of additional services: