Pool Coping Services for Boynton Beach Residents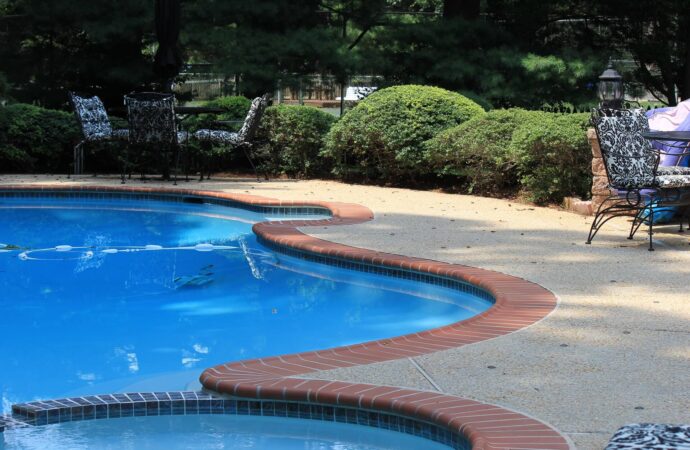 To enjoy your pool area, you must worry about keeping every part of the structure and feature in good condition. Pool coping is one of those elements most pool owners ignore, as well as contractors who only want to close deals or worry about aesthetics only. In case you are unfamiliar with the entire part of coping, it's basically the space between your pool and the rest of the outdoors. For instance, between your pool and the deck. At SoFlo Pool Decks and Pavers of Boynton Beach, we can introduce you to the option and explain why it is needed in your space.
Unlike other companies, we want you to keep all features and details on point so that you don't worry about durability, longevity, and maintenance. Instead, you can start thinking about less moisture and mold all over the place since this is what proper coping can prevent in the edges. Water will move to the drainages you have installed, and you won't have to worry about anything in the next decade.
As long as you have proper coping, most of your pool structure will remain in good shape. The edges of your pool deck and how the entire space will be put to good use. Our contractors can guarantee this by working with the best materials and providing the post service in case you are having problems with the current structure and how it was done when someone else built your pool.
The pool coping is an important part of any pool, and it needs to be included and taken care of properly during the construction of the feature, not during resurfacing or remodeling the space and area. If you're requesting this service or are having your pool built, you should focus on having coping that is of the best quality and properly installed. Otherwise, you will end up with a result that will wear out quickly and bring more problems short term. We are experts in this area and can help you understand its importance of it. It will impact the durability and longevity of your pool. At SoFlo Pool Decks and Pavers of Boynton Beach, the team can provide all the information you need about coping and what it means to your project.
Understanding the meanings of every space and element is key to making your pool last. You can take the time to review this information and learn more about our service so you know what's going on in your pool, and in case it is too late for the construction and you now need new coping, we will be here to deliver the best results.
The only thing that separates the pool shell and surrounding areas, and the deck specifically, is pool coping. It prevents water stagnation in the space between the pool deck and the pool. It is simple, but it plays a crucial role. It is sometimes considered an edge. But it isn't when you think about what it does for your pool and all it entails, especially during installation, that you get to understand why it is such a crucial part of the entire structure if you want it to perform well and last for very long.
The pool's durability will be affected by how you manage the separation. The pool's integrity should not be compromised since it will involve moisture and quite a lot of water and filtrations. When done right, all the water should go to the drains installed in the pool, which will save you lots of repairs and prevent accidents in the pool deck.
The pool water will be drained from the areas where it flows as people splash, swim or play in it. This will prevent the pool from becoming contaminated by moisture or other problems and even bring more safety, as mentioned earlier.
Many people would like to learn how to maintain a swimming pool. The entire area around your pool is covered by the coping, and if you think about it, it is the one that makes the entire pool remain together. It is not required to be maintained, but it is an important part of the construction process. It is worth paying special attention to, and you may want to invest a bit more in this element while sacrificing a bit in designs or other features if you cannot afford it all.
We will guide you through the process and make sure you are completely informed about your pool's requirements. The process will be explained, and we will provide all the information about what we will do with the feature.
Pool coping is an excellent investment. It is long-lasting and can be used for many decades without needing to be repaired or maintained.
You Need It for More than Just Longevity
---
Pool coping is essential for maintaining and owning a swimming pool. This is not something to be overlooked or added by accident, although it is almost impossible to overlook it since there won't be a pool without it, or there shouldn't be one if it doesn't have it.
It is important to remember that all pools require it, regardless of their age or condition, and if there is a "contractor" suggesting removing it or focusing on low-quality materials there to invest more in other parts, you have the wrong person in charge of your project. 
The problem is that the pool coping is not of high quality and it isn't properly installed by contractors who have worked on it before. If this is your case, you will need to focus on the coping again and replace it with a better one or fix the installation.
You can install pool coping during construction or later. The type and cost of your pool, as well as the project you are working on, will impact the selection of pool coping.
Contractors may not choose the best quality brands and materials. This can result in lower costs for clients with tight budgets. You shouldn't try to reduce costs by focusing on other areas but neglect to address coping. This is a key part of the pool's performance and can lead to higher spending.
Before you start building your pool, it is important to select the correct type of coping. Experts can tell you if the coping is of poor quality or irregular. Even if the price is a bit higher, you should strive for the best performance. We will introduce you to several options and make sure to find a high-quality one that is within your budget, even if this isn't for your project in building the pool but rather a replacement.
This is how we work: We assess your space and determine the best coping solution for it. Then, we make the project as cost-effective as possible and deliver a stunning, long-lasting result.
All Options for Pool Coping
---
This pool option is distinctive because it can be customized using many designs and materials.
Many popular natural stones come in many colors and textures. The type of stone you choose for your coping will be up to you. Stones don't always need to be costly, especially if they are requested from our company, so you can rest assured this option is, indeed, doable for you.
Bricks can be a great choice for homeowners or businesses that want to create amazing designs but are limited in their budget. Other options are available that are less well known but still have the potential for success.
Our team will assist you in choosing the best pool coping to suit your needs and budget, and we will plan and design the project to maximize your investment. We want your pool coping properly installed so it can start bringing benefits and helping you prevent future expenses.
Below is our list of additional services: