Learn More About SoFlo Pool Decks and Pavers of Boynton Beach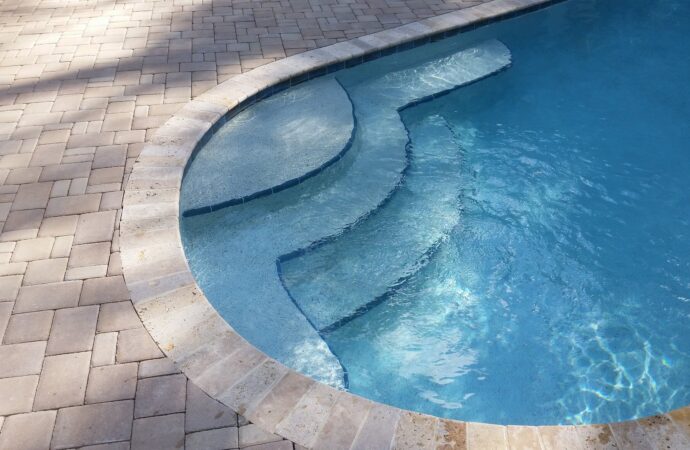 At SoFlo Pool Decks and Pavers of Boynton Beach, we are known for being responsible, skilled, and experienced in all pool services. These include pool deck resurfacing, cool decking, and remodeling. Unlike other companies in the area, we have prioritized expanding our services, but not at the expense of reducing or sacrificing quality. Therefore, you can reach out and access any of our 15+ services for your pool area and expect the best result and attention in return. We have made this possible thanks to how we train our contractors, equip them, and strive for quality results in aesthetics and functionality.
We know that most companies in Boynton Beach and surrounding areas specialize in a single service. As a result, it is difficult to rely on them for multiple projects or large-scale ones that involve more than one or two solutions. With us, you can worry less about this and come to us to get the entire project designed, organized, and planned. In other words, we equally make anything happen, including small and large-scale projects. You only need to take the first step in contacting us, and we will take it from there.
Because of how much we care about our clients, we aim for balance in how we estimate your project's price. Needs, preferences, budget, pool size and type, and other factors are included in the process. Consequently, you get a more accurate quote for your plan and wishes for the pool space.
Offering top services and delivering results that will make everyone happy and satisfied are two different things (believe it or not). Most contractors focus on top services as the options they have available and what they can offer to the client, but few of them actually maintain or keep their promises around what they can achieve with them and if it remains to be "top" as well. At SoFlo Pool Decks and Pavers of Boynton Beach, we worry about every single detail, and this means we don't want to offer top services only but also focus on providing you with everything you need.
Our team is always available and ready to take on a new project and challenge, so you don't have to keep searching for more people that continue calling themselves "professionals," yet they're unable to provide what you expect from contractors dealing with such an important task.
Although pool deck resurfacing is the main service in our company, we have many more solutions waiting for you as our team is full of qualified experts and contractors with over nine years of experience who are always updated with the latest technologies and materials and continuously improve their results and themselves.
We worry about every detail and make sure to bring more services as needed at once or based on your request and needs. We will be there, be it for your pool deck, repairs, and remodeling or for lighting and other services around aesthetical needs and goals.
Unlike other companies in the city and area, we worry about the functional part of everything, but we want to make it clear that we always work around what you need, which means you can have our contractors' help if you are only working on your pool area for aesthetical purposes:
You want a new design and style.

Resurface, so you change the surface and current ugly or old design.

You want to add more features and bring a new ambiance to the pool with proper lighting.
And much more. We understand everything can involve a lot of work, time, and the right people. This is why we encourage you to contact us and let us know what you are seeking and how we can help.
The Best Part? We Do It All
---
And with "all," we mean we are able to help you in each step: planning, designing, knowing your problems and what you need and handling the project itself.
We will provide guidance, recommendations, and more insight into what you need to do to have your pool area perform well, be stunning, and last for many years, so it doesn't become a money hole where you have to continuously invest in getting a clean and good result.
Allow us to be the experts that provide all the information and educate you, so you make great decisions and feel confident and safe with everything you choose and do and how we handle them for you in terms of physical effort.
Below is our list of additional services: