Pool Remodeling Services for Boynton Beach Residents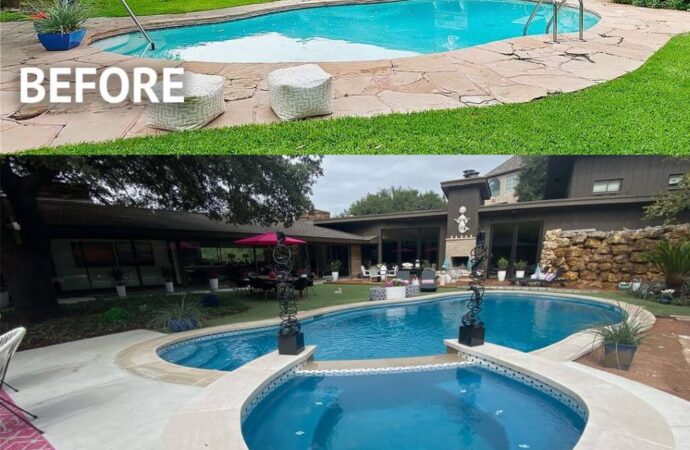 Part of owning a pool is dealing with how it changes and deteriorates over the years. Hence, post-services are always needed for more than maintenance and repairs. For instance, for multiple reasons, pool remodeling is a common request in our company, SoFlo Pool Decks and Pavers of Boynton Beach. First, pool owners want a new look and to enjoy the experience a bit more. Second, some repairs and changes may be needed, leading to remodeling more than a single part of the space. Finally, it may be time to just update the old features and bring a different appeal.
Our company can help you with this endeavor as we have been providing support with small and large-scale projects for over 20 years. As a result, all pools we have remodeled are far beyond expectations, meaning you can enjoy and be happy about the result we are capable of getting for you. all you have to do is contact us first, and we will handle the rest. While other contractors won't worry about designing, planning, and considering every factor, we will.
We offer free inspection and estimates so that you can have a good idea of what your pool area will look like and how much it will cost. After all, we truly understand how much all this involves and that not all people can jump in without second thoughts. We want you to consider multiple options too and be comfortable with how the project will start, proceed and finish as well so that you're happy with the result.
Most people, when they start thinking about pool remodeling, don't really go over small details and features they could add or remove from the space just to make sure there is a new feeling about the whole space, not just the pool itself. Instead, they go for the big project: resurfacing their pool decks or just bringing new tiles and finishes to the pool and its structure. SoFlo Pool Decks and Pavers of Boynton Beach is here to assist you no matter what your case is since we will handle the entire pool remodeling project and ensure we have everything covered as needed and requested.
We can create a pool that meets all your needs and preferences. This will make your pool attractive and fun for everyone and ensure you don't consider it an eyesore or can just get rid of the old and outdated design that doesn't go well with your taste anymore. You can trust our team to take on all the tasks and responsibilities this involves, including the following:
If the project is residential or commercial, you must ask permission from the appropriate entities. You will need to bring all necessary materials and comply with any regulations. Consider your neighbors, and let them know about the project. Since this takes a lot of time and you probably don't know how to handle it, we will do it for you once the project has been approved by you and the estimate as well.

Our team will plan and design your project. We will also take note of everything you need and want and bring it all together, so you are happy and satisfied in the end.
We go through all details, and you can always answer or say "yes" or "no" to any final recommendations or design. So we review them again until you are satisfied with what we have and have brought you based on the information and request you provided.

We'll help you keep it within your budget, so you don't waste more than you can afford.

Talk about all options, including lighting, resurfacing, and more for your pool remodel; even if it is a small detail, we will be there to take care of it.
We can help you, no matter what the reason. Contractors may be reluctant to accept a project if there is significant damage or a need for change. We understand that many times you are doing it for aesthetic reasons, and we are happy to assist in this last situation or the general one with all repairs. 
Each project will be completed to your satisfaction. We will ensure that you receive the items you want and need so you don't have to repeat the whole process and that every detail is smoothly done and taken care of.
Remodeling a pool takes many steps. It is important to take your time, be patient and pay attention to every detail. This pool project and design should look exactly as you want them to, not like others would like them, since there is no point, even if this is more a commercial design for others.
How to Make Your Swimming Pool the Best?
---
A popular option when remodeling a pool deck is to resurface it. The deck will need to be completely remodeled in this case as the external structure of the pool itself will change, and more additions around the edges can be made. It is, therefore, a good idea to concentrate on this service only. But there is more to it than just resurfacing as well.
During this project, you can repair cracks or faded areas. You can either recoat the existing finish or apply a new one if it isn't what you are looking for. Resurfacing is not only for remodeling, but it is also necessary in many cases.
Concrete, brick pavers, eurotile, spray deck, and cool decking are all options for resurfacing. You will need to consider the space available and your budget before deciding which option. You can achieve a unique look by combining design elements with one look or just working with more than just the common materials and designs for your deck.
Our team will help you navigate the process and provide all the information you need about the various resurfacing styles and options. The design and planning phase will begin once you give us the green light to help with it. Our team will provide an estimate and view the final product.
Remodeling a pool may include new features or altering existing ones. Although surfacing and working around the deck is crucial, it isn't the only thing to care about.
There are many options for residential and commercial properties as well as their pools. You can combine several options, and for it, we can help you choose the most suitable based on your budget, the designs and styles you want to achieve, and how you want to work with the new additions and changes for your pool and the entire area in the property.
We Take Care of Every Detail
---
SoFlo Pool Decks and Pavers of Boynton Beach professionals are available to assist with pool coping and diamond brite as well. We will first determine the size and shape of your pool. We will then provide general service, including working around your existing remodeling projects or providing general assistance in resurfacing and repairing some cracks or dealing with the general damage in your pool.
We can provide an estimate based on the size and function of your pool. Additionally, we will design a custom-made surface and space to meet your needs and preferences.
With this in mind, we are a company that worries about all elements that need to be included to get a clean result. This is why we will mix some services as needed. For example, you may need pool deck resurfacing, but maybe pool lighting or pool deck repairs are needed in the process as well to get the final design.
Allow us to be there for you and bring all the services and solutions you may need.
Below is our list of additional services: