Pool Lighting Installation Services for Boynton Beach Residents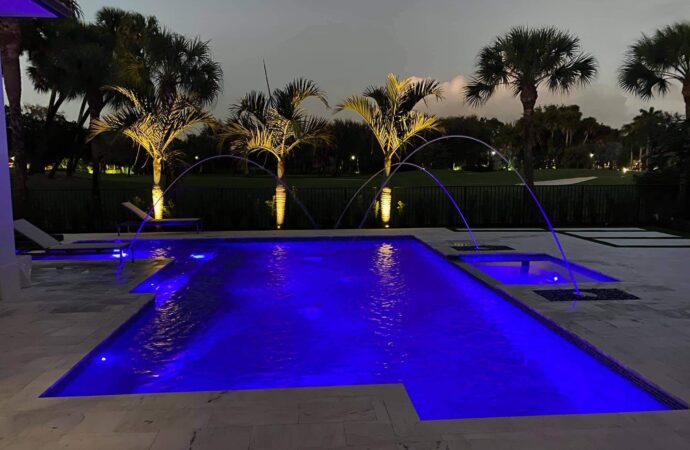 If you are worried about how you cannot enjoy your pool area at night, maybe you are missing proper pool lighting to complement the space. At SoFlo Pool Decks and Pavers of Boynton Beach, we can offer you all the help you require to bring light to your space and ensure you can enjoy the entire area. Unlike other companies and contractors, we consider that working on your fixtures and aesthetical aspects of the pool area isn't vanity. You want to have a functional and save space. Hence, having enough lights and appliances is just a basic part of it.
Our company can guide you through this entire process and make sure you have all the detail handled. We will consider your pool area and how you have handled your outdoors so far so that the entire landscaping is in harmony and you can enjoy the features. While working on this aspect, we will consider durability, safety, and affordability so you don't have to spend a fortune on the project. As long as you take the step of contacting us and sharing what you expect for the space, we will be more than happy to take on the rest.
Above all, we want your project and the entire pool area to be functional and durable. Therefore, we do consider your needs based on aesthetics, but we want you to have a fair project and investment that can bring all the comfort and commodity you need for you and everyone else to enjoy the pool area.
If you are a pool owner in Boynton Beach, you either love to work in enhancing your pool's look and aesthetics, or you're close to becoming someone who likes to invest time in it from now on after you learn how much you can achieve with the right services and features in place. Many pool owners tend to focus on repairs and consider resurfacing as everything they need for their pools. Well, this could be true when it comes to surfacing alone, but if you want to have a stunning result that can shine day and night, you will need some thoughts placed on pool lighting. SoFlo Pool Decks and Pavers of Boynton Beach's goal is to help you understand the benefits of pool lighting and how it can transform your property and elevate your pool's appearance and look to more than a single level.
We know how important it is to complete the landscape and add beauty and functionality to your pool or deck, and not only come with a list of things to do in terms of repairs and focusing on the structural part alone, as crucial as it is. 
Lighting is often the most important element in the process of beautifying the space, and some people tend to forget it. Although it may feel more functional as you need enough light to see where you are going, you will be amazed at how beautiful a pool can look if you have the right lighting system installed in the right areas.
Other services are available, including repairs, surfacing, and regular maintenance. We are always available to help you with your pool deck or other space in the city. We will work with you to maximize your investment, no matter how large or small, and will also help you bring new features that will make everyone happy, including your clients and guests, if it's a commercial space or pool open to the public.
We can add lighting to your pool or this landscaping option to enhance the existing spaces. Without lighting, you won't be able to see the surrounding areas. So that everyone can enjoy and appreciate the pool at night as well, you want more than the light bulbs most owners tend to install around and don't even offer great lighting in the short and long term.
The lighting system will allow you to see the pool from a distance and achieve similar goals with other features. It will ensure everyone has a great experience using it, regardless of the time, and you can enhance every single detail and have a space you can feel attracted to all year long.
To get enough light, you will need to plan the area surrounding the pool and the pool itself with the right system so it can go underwater. 
Suppose you have a pool on a commercial property: the pool could be viewed from a good distance and admired by your guests and clients if you work in this pool lighting process. This will make it more attractive to your guests and customers. 
However, it is a time-consuming job, so make sure you have the right equipment and know how to handle electricity. For all the technical parts and the job itself, our team is here to ensure you, and everyone is safe while having the desired result in place.
We can also add lighting to the walkway edges, if necessary so that you have a complete landscape that compliments the pool. Your outdoor space will look unique, and everyone will love it.
Pool Lighting Must Be Done with Care
---
Even though lighting may not seem difficult, and we know some people believe it is all about placing some lights here and there, it can be challenging if you want a good result that will bring all the beauty to your pool area and help you avoid changing or replacing the lights often due to poor installation or low-quality materials and products used.
You have to think about many aspects and details, such as the following:
To maximize your resources, place the lights at strategic locations to cover as much area as possible with one light bulb or appliance/fixture.

When electricity and water get involved, make sure that accidents are avoided with the right products and designs while taking care of the connections.

You can make the pool stand out with unique colors and a great design. This will allow you to notice the difference and give the space a fresh look, but you need to choose the right colors and tones so the lights won't bring the opposite result.

Make sure the space is safe and functional, so everyone won't feel the lights are a threat, even if they are underwater.
It is much more than simply installing lights around the pool. It is crucial to select the right products and materials and place them where they are needed. Make sure that electricity is not an issue and that lighting enhances the beauty of the landscape. Designing and planning the area carefully is needed to get the satisfactory result you expect.
We recommend you get professional help. We encourage homeowners and commercial owners to trust us with pool lighting projects. Our team can help you choose the right materials and how place them correctly so that accidents don't happen. SoFlo Pool Decks and Pavers of Boynton Beach will always be here to provide support and guidance.
We will make sure you are satisfied with the products and lighting results we provide. We aim to make sure that lights and systems last more than a few days and months so that you don't have too many worries about replacing them or maintaining them. You don't have to worry about your electricity bills either, as we use the most eco-friendly options in the industry and market.
We will evaluate your pool and suggest the best lighting options to illuminate it at night. Together, we will create a space that suits your outdoor space and brings only benefits.
Below is our list of additional services: