Pool Plastering Services for Boynton Beach Residents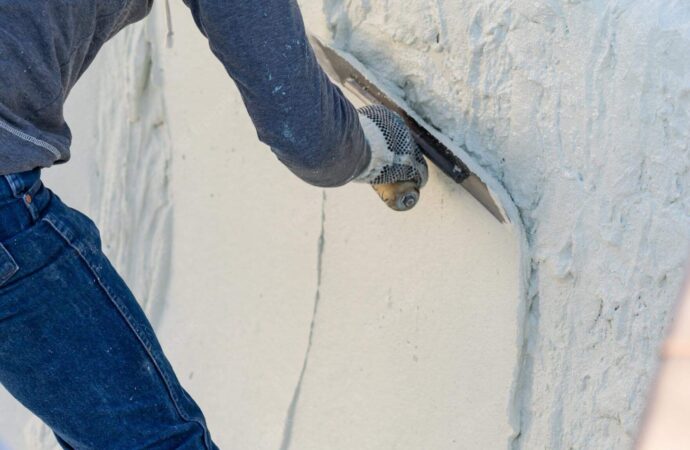 Keeping your pool in good condition will require more than your usual services. Therefore, you may want to inform yourself how much it will take to handle maintenance and repairs and what solutions are needed over the years. At SoFlo Pool Decks and Pavers of Boynton Beach, we like reminding our clients and everyone in the city how crucial pool plastering is. While resurfacing or refinishing is important, plastering is equally important whenever it is damaged or has been a while. Hence, it isn't a service you can delay or ignore if you want durable pools.
Put simply, plastering a pool consists of working on the last layer or coating of your pool's surface. It will seal every crack and element in the structure while adding strength and extra aesthetics, depending on the type of plaster you use. Unlike popular belief, it adds to the final look of the pool, so it isn't only about your finishing but also about this material alone.
In case you are not well-versed in what everything plastering entails, we can start there. For instance, our contractors will discuss the project with you and explain what type of plaster is better, how to get it done, and so on. Moreover, we can draw a plan and design for you so that you understand its scope and everything involving the process.
By the time we finish the process, we will ensure you get the most out of your investment and time. as long as you contact us first, our team can support and assist you with the rest.
Should You Prioritize Pool Plastering?
---
Short answer: absolutely. While some people will consider regular repairs and maintenance as a priority, plastering is just another service to add to the process. Otherwise, it is common to experience more cracks and signs of damage due to poor plaster or how it has worn out.
Hence, you want to contact other contractors or us and have the perfect plaster for the pool again. In case you don't want to change the current color and type, we only need to replaster it with the same type but of better quality. That being said, you will realize that the benefits of plastering are many, which means there is no really a reason not to do it.
First, you will enhance your pool's durability. As plaster provides a strong and durable surface, you won't have to worry about water penetration and chemical erosion as much. This can help prevent leaks, cracks, and other issues that can compromise the integrity of your pool.
Second, you get an improved appearance. In general, pool surfaces can become stained, discolored, or worn, detracting from the overall look of your pool area. Plastering can revitalize your pool, making it more inviting and attractive. Therefore, it is an aesthetical, safe, and functional service all at once.
Finally, you will increase your property's value since a well-maintained pool can add significant value in terms of the home's full price or commercial place.
Is It Easy to Pool Plaster Your Feature?
---
Overall, it shouldn't be a problem to work with pool plastering. However, most companies have their processes, and therefore, steps vary depending on what they add or what you want to. In other words, there is a standard, but you cannot expect each business to do the same.
We follow your needs and preferences at SoFlo Pool Decks and Pavers of Boynton Beach. Hence, steps can be added or removed accordingly so that you get the most for your space. We can give you an overall process so that you have an idea of how long this will take and how our company works with your plastering.
First, we need to prepare the space. This involves draining the pool, removing any debris, and thoroughly cleaning the surface. In case any repairs are needed, we often handle them during this step unless some require extra attention and solutions.
Second, our contractors will proceed with the application. For it, we will prepare the plaster mix. This typically involves spreading the plaster evenly over the pool's surface using specialized tools.
Third, we begin troweling and Smoothing after the plaster is applied. As long as this is done right, the surface will be smoothed to create a uniform result. This step is crucial for achieving a high-quality finish.
Finally, we move on to curing and filling. Therefore, the plaster must be allowed to cure for a specified period before the pool can be refilled with water. As a result, the curing process ensures that the plaster is properly bonded to the pool's surface.
Our Company Has It All for Pool Plastering Your Pool
---
Unlike other companies, we truly worry about your needs and delivering top-quality results. Therefore, you can reach out and rest assured that our contractors will focus on providing the best. As long as you let us know if you have any specific requests or needs, we will adapt and adjust the whole process.
Part of guaranteeing great services is how our company employs a team of skilled and experienced contractors who are well-versed in all aspects of pool plastering. Their expertise ensures that your project is completed to the highest standards, and coupled with the high-quality materials we use, nothing but the best can be achieved.
Additionally, we take on any custom requests. Since we understand that every pool and owner wants specific designs, we can take on some requests. In other words, you can ask our team to work with a specific material, design, texture, and more while providing the service.
Above all, we are proud of our customer service and competitive prices. While other companies will worry about closing the deal, we truly care about your experience and what you get when working with us. Therefore, we will consider your budget and every request and preference you have.
Our company is the right place if you want quality results for fair rates. So, to sum up, contact us today and get access to a free estimate and inspection for plastering your pool.
Below is our list of additional services: