Travertine Installation Services for Boynton Beach Residents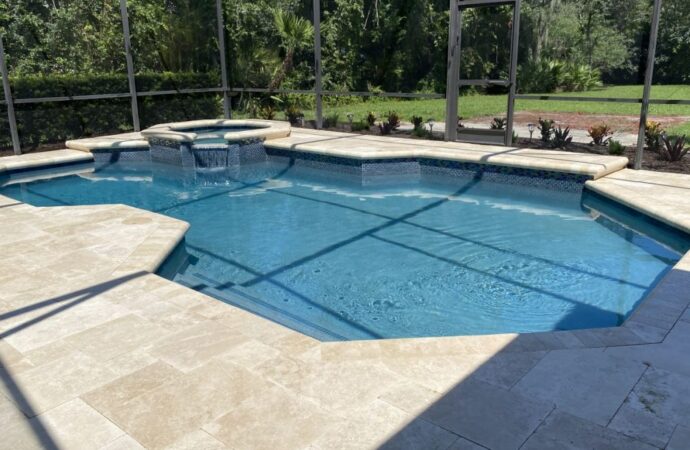 Being able to work with a company that knows about pool deck resurfacing can prove to be a challenge. The main reason is that most contractors in the area specialize in a single service. Others are more focused on working with materials such as brick pavers and stamped concrete that they don't consider others in terms of quality and durability. At SoFlo Pool Decks and Pavers of Boynton Beach, travertine installation is considered by our members as it is a stunning and durable surface you can have in any pool area. The result of installing it will be unique and quite the investment to avoid repairs or maintenance.
While some people consider aesthetics above everything else, durability and affordability are equally important if not more. Therefore, finding a balance in how you work with your pool deck resurfacing is the right move as it allows for a neatly done pool deck plus having an expense that won't impact your finances too harshly. We can make this possible as long as you let us know if travertine is what solves your problems. We understand that some pool owners aren't familiar with it, but we start here in terms of explaining and introducing you to the project.
Feel free to ask all questions and have our team work with you on designing and planning the installation. As a result, you will have a unique and durable pool deck that will be worth your investment and time in every aspect. All you have to do is contact us for more details and let us know if you have any preferences.
It can be difficult to repair or replace the pool deck's surface, so whenever you need to work around resurfacing and new installations, you want to make sure you're choosing the right surface and materials for it, so you don't have to repeat the process anytime soon. Of course, the contractors dealing with the project will need to be qualified for it as well. Now, although concrete and pavers are quite popular among homeowners and every single pool owner in the city, we assure you that travertine can be a great option to save money and time and get the best results that will last for years. At SoFlo Pool Decks and Pavers of Boynton Beach, we work hard with travertine installation and make sure you have a result that will prevent frequent repairs and won't require lots of time in maintenance.
You can achieve the beautiful look of travertine by having it installed all around your pool or in any other area you choose, as it can be used for more than just pool decks. No matter what color you choose, this stunning surface will enhance any space. We want you to love the design since there is no point in having the surface if it doesn't please you visually. This is why we will design and plan the entire installation so that you are satisfied before we begin.
For a surface that you love, durability and long-term performance are quite crucial, and you need to keep an eye on them before you jump with your selection. We work with many different surfacing options. This is why it is the most important detail that we will pay attention to throughout the project. We will listen to you and ensure that you are happy with the final results, but if we can recommend travertine, we will do so.
There are many ways to use travertine. This surface can be used to create unique textures or look more like other materials if you have skilled professionals such as us.
Here are some facts about travertine and its benefits. It will help you make a decision around how the material and product work, and you won't feel regrets later after you make the decision while being properly informed about it:
It is not slippery and absorbs water well. This is a perfect surface for a wet area, and you can save money as travertine happens to be more affordable than concrete and pavers.

It is heat resistant, so you don't need to worry about it getting too hot, and it will offer great support for your entire space.

Travertine is quite durable. It doesn't matter how much traffic you need it to handle or whether it will be able to handle additional features and how you move things to several places or here and there; it will promise what it offers in durability.

It is unique because of its remarkable longevity. Its durability is a huge reason for this benefit.

The surface is easy to maintain and inexpensive. This means it is low quality and will save you lots of time and resources in the short and long term.
How Our Team Will Get The Travertine Installation Done
---
SoFlo Pool Decks and Pavers of Boynton Beach contractors are available to help you throughout the process. We want you to be confident in your choices and happy with the result. Poor installation will cost you more, and we want to prevent this since we are quite experienced with travertine.
Our team has been helping pool owners in the area for over 17 years, and we have installed travertine in both residential and commercial properties for over ten years. You can be sure that we will be there no matter where your pool is located, and we can bring the best results for every project you have in mind with the material and surface.
Our experts have many years of experience and are highly skilled. They have more knowledge of the materials and options for resurfacing than anyone in the region. You can rest assured that you will receive exactly what you need.
A pool deck is an important feature. It is crucial to be aware of how you interact with them and who provides the services that you require to fix what has happened with your pool area all this time. It is obvious that this is a difficult task. However, not everyone who calls themselves professional is actually qualified to do the job.
We are happy to talk with you about the importance of pool decking and what we can do for your space. It is essential to create a safe swimming area for children and adults, as well as a comfortable environment for everyone when you are working with our team and choose travertine for the task.
What Is The Best About Travertine Installation?
---
A pool that is located in an area of high dirt can cause porousness problems. If you want to use travertine, you will need extra care. Although this is a disadvantage, it shouldn't be a problem. Once your surface is installed, it is easy to maintain, and we will help you limit the amount of time you need to invest in it.
This surface option has the best feature whatsoever: It is affordable. You can buy a square foot for as low as $4. It's worth looking for the right company that will provide professional installation and high-quality products, so the cheap option doesn't involve poor quality. This will make your investment worthwhile due to its durability, longevity, and wide range of designs that can accommodate any style or design you want to achieve during your project.
Contact us for more information about this service. We will provide you with a personalized estimate and help you understand the costs involved and how you can improve your pool deck's quality and beauty. Our role and job begin right where when you call or email us and ends when you decide it.
Below is our list of additional services: