Pool Deck Repair Services for Boynton Beach Residents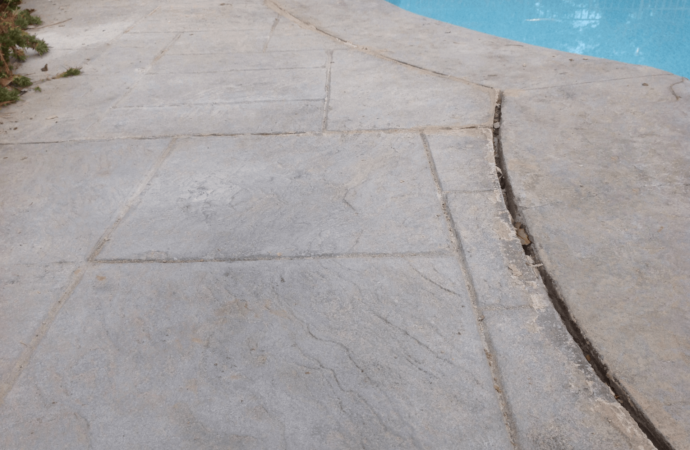 Performing pool deck repairs is a priority so your guests, family members, and yourself can enjoy their time together and feel safe. Therefore, this isn't something to delay but rather put at the top of the to-do list so that you don't have to worry about more expenses or anyone being in danger during the process. At SoFlo Pool Decks and Pavers of Boynton Beach, our team can provide full support and assistance in making those repairs possible. First, we will inspect your pool deck and provide a plan and estimate around what you need. Then, we can move on with the project itself.
Our company knows how to work with small and large-scale projects equally. This way, you won't have to worry about how professionals are handling your process, as we know how to focus on the cracks, discoloration, and every sign of damage accordingly. Additionally, we will determine if a single solution is enough or if we have to work with multiple ways of repairing your pool deck. Consequently, you can have a clear idea of what the area needs while saving time and money in the process.
Our contractors will be happy to work with you and ensure your pool deck is safe and in good condition. Therefore, don't hesitate to contact us since as long as you take the first step, we can handle the rest for you in order while keeping you involved in the process.
If the pool deck is properly installed and made of high-quality materials, most repairs can be avoided or prevented for a very long time until it is all about us and the time you have had your pool deck in place so far. Of course, maintenance plays an important role in all this, and we want to make sure you have that clear. How long they last will depend on the type of surface used and how you care for it. Now, the majority of contractors that deal with pool deck repairs aren't known for doing a good job either, as most of them have to go back and deliver the service again within a few weeks or months. At SoFlo Pool Decks and Pavers of Boynton Beach, our company cares about owners and offers pool deck repairs that will save you time and money and won't bring the problem to your surface or entire pool area in a few weeks.
Our team has been providing high-quality services for more than 17 years, and we are quite proud of what we can achieve for you. Our contractors will make sure that your outdoor spaces are safe and beautiful. 
Our team is the best choice for commercial and residential property owners because we are focused on quality, durability, and longevity. Then, we moved on to aesthetics and how beautiful it ended up being after we offered the required repairs and worked around how to make the space look like new.
Qualified experts mean you won't need to keep making the same repairs and worrying about extra expenses when your needs change. We are not like other "experts," and they may not be capable of delivering the quality repairs promised. We are, and we have worked hard to be known for delivering what is expected and saving everyone time and money thanks to our efforts in this process.
We will help you choose the best solution, and we won't overcharge you for it but rather focus on a fair price. We will repair any damage done to your pool deck by unusual or external sources immediately and make sure there are no more problems.
You must take care to ensure that your pool deck is durable. Our goal is to make sure your pool deck lasts as well as the enjoyment of your outdoor space. Only the finest materials are recommended and used by our team.
A pool is an investment, and as questionable as the next statement may seem for some pool owners: a pool should not be an ongoing expense. It shouldn't cost too much to maintain and should be easy to manage if you have to put in minimal effort. You want total control over your space for many years without having to worry about every detail and spending more each day. It is all about knowing the people who worked on the installation, repairs, and maintenance and guaranteeing the entire performance. In other words, poor contractors are equal to poor pools, which will make you spend a lot on the decks and other features.
Any cracks or damage to your pool deck can be repaired by us. No matter how small or large the damage, we can fix it. You don't have to worry about other issues when deck repairs are done by us. We are here to help you if you have any concerns or questions about your space.
Don't Take It Lightly Since It Makes It Worse
---
We are experienced contractors and can tell you that if you want to avoid problems that will be quite hard to solve, you want to focus on your repairs as soon as possible, or you will be spending more money in the long run.
See how much effort it takes to take care of repairs will. Initially, it all depends on the quality of the pool and deck, as well as the quality of the installation. It also depends on how skilled other professionals are in providing services and most likely dealing with the same problems you are contacting us for but in prior opportunities. 
There are many options to repair different types of damage. Experts can help you choose the right course of action to get the desired results and when you are trying to reach some, understand that service shouldn't begin when you formally hire them for the service but rather right when you start reaching out. 
We won't waste time nor make you pay too much because we aren't like other contractors who just want to repair and bring more business, but without worrying about what they can achieve for you. So you don't have to worry about us and feel free to:
Talk to our experts freely.

Have us provide quotes about how much repairs will cost.

Ask about any issues and details you want to make clear for yourself.
We will inspect your pool to check for cracks and areas that have become brittle. This will prevent future problems and ensure that you have a space that is safe for many years.
SoFlo Pool Decks and Pavers of Boynton Beach strives to offer affordable options. We will not make you spend a lot or force you to buy a lot of materials that aren't really necessary for the repairs. We encourage our clients to let us assess their pool decks and then send them a custom quote that fits their budget. This is how we truly make a difference and want to help you.
We Do It All
---
Common cracks and discolorations can be fixed in no time by our team, but besides working with essential repairs, we can also deal with more complex issues depending on the situation.
We will need to assess your deck and work around the problems and find solutions for them accordingly. We will then give you an estimate around those issues and what we can do to fix them quickly and ensure durability and longevity are restored in your deck.
Below is our list of additional services: