Pool Deck Resealing Services for Boynton Beach Residents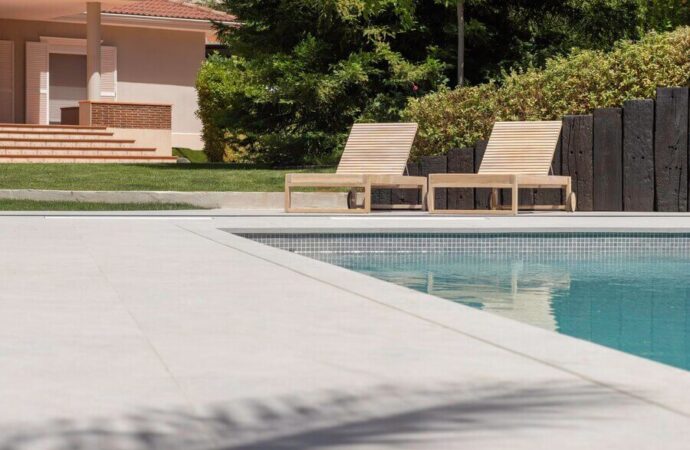 Pool deck resealing is a crucial maintenance task for pool owners. It doesn't matter if you have a residential or commercial pool. as long as you want to keep your pool area in top condition, you must prioritize it for safety and aesthetics. But how does resealing it help to do so? By protecting the surface from damage caused by water, chemicals, and other environmental factors. At SoFlo Pool Decks and Pavers of Boynton Beach, our contractors can provide full support in making the sealing possible so that it lasts and doesn't need to be redone frequently. As a result, you save time and money thanks to our quality sealant, coupled with our contractors' experience.
Most pool owners think about resurfacing, repairs, and the usual services. However, they can be quite expensive—especially resurfacing—considering the necessary steps and materials. Therefore, working around what your space truly needs regarding maintenance and aesthetics is crucial.
As long as you contact us first since we need to know about you, our contractors will be more than happy to lend a hand or two for all projects so that you get the most out of your investment. In addition to our support in resealing your pool deck, we give guidance and recommendations around what can be done for other features or the rest of the area.
Unlike other companies, you will notice that we go above and beyond for your best interests. Therefore, don't expect us to do half-asses projects that only involve closing the deal to get the revenue. Instead, expect our experts to work around your needs and focus on how the pool deck resealing will benefit you.
Is Pool Deck Resealing That Crucial for The Space?
---
Regular pool deck resealing offers several advantages for pool owners, but listing them can be a bit outdated. While some companies like going over a bunch of bullet points, we want to explain why it is crucial to apply your sealant when your deck is screaming for it.
First, resealing your pool deck creates a protective barrier that shields the surface from water, chemicals, UV rays, and other damaging elements. This helps to prevent cracking, chipping, and fading, ensuring your pool deck remains in good condition for longer. Additionally, you will keep the style and design longer, meaning you can delay resurfacing, which is often more expensive.
Second, it offers a fresh, bright, attractive look. By maintaining the deck's appearance, you can enhance the overall aesthetic of your pool area and create a welcoming space for family and friends. In case you have a commercial pool, more guests and visitors are likely to choose you and use the space.
Finally and above all, it is a safety matter. All cracks, discoloration, and damage that can lead to tripping or slipping will be prevented, delayed, and handled. In other words, you are keeping people safe in your space with a simple sealant.
We understand it can be quite a challenge to consider resealing with so many options out there. However, our contractors will review more benefits and why the option should be prioritized instead of discarded.
Does It Take Too Long to Reseal a Pool Deck?
---
Overall, it doesn't. However, multiple factors influence the timeframe our team can give you. Some of them include your pool deck's size and type, its condition, and the type of sealant used in the space. Additionally, multiple layers are required in some cases to ensure we have dealt with all the problems in the deck.
At SoFlo Pool Decks and Pavers of Boynton Beach, we prefer following a process or introducing our clients to it so they can expect the steps and see how long and why it will take the timeframe we give them:
Before resealing your pool deck, one or more of our professional contractors will inspect the surface to identify any existing damage, such as cracks or chips, that need to be repaired. This ensures a smooth and even finish in addition to all the aesthetics we are restoring with the sealant.

The pool deck must be thoroughly cleaned to remove dirt, debris, and any mold or mildew buildup. A pressure washer is often used for this purpose, effectively eliminating contaminants and preparing the surface for resealing. In case we need to remove grime or some sediment due to other elements, some acids or chemicals can be used.
Any necessary repairs should be completed before resealing the pool deck. This may involve filling cracks, smoothing rough spots, or addressing other issues that could compromise the integrity of the surface. Whenever we notice this need, we will let you know in advance and list it as part of the estimate and project.

Once the pool deck is cleaned and repaired, the resealing process can begin. Once finished, we let it dry for at least 24 hours up to 48 hours to guarantee the result.
How to Reach Out to Work with Our Team
---
All it takes is a call or email so that our team can get into your property and start working on your pool deck resealing. However, before we can provide the service, we need to inspect and learn more about your space.
Therefore, we encourage you to schedule a free inspection followed by an estimate. Additionally, our team will discuss all your preferences and needs so that we can get the resealing project right from the very beginning.
Rest assured that working with us comes with quality materials, qualified professionals, and neatly done results for your space. Moreover, we care about you, your budget, and any conditions and circumstances you have in your pool.
Feel free to contact us anytime and even use our contact form to request more information and details about our service. We will be more than happy to clear doubt and answer any questions you may have about the sealant, deck, or any part of the project.
Below is our list of additional services: